Review: Zaatar Offers A Blend Of Healthy and Flavoursome Food
Karachi no doubt has any culinary limitations but it has never seen a beautiful Lebanese restaurant like Zaatar before. The restaurant located on Nishat opened its doors last month enticing fans with mouth-watering delicacies that set an impression of impeccable taste and flair from the moment it opened. 
If you're interested in discovering the classic flavours of the
Middle East
, Lebanese in particular, then
Zaatar
 is your ultimate destination. From the interior that is carefully selected and designed by fashion designer turned interior designer and currently the owner of the
restaurant
itself, Samira Rasheed to the
food
- it is quite an unforgettable experience that will surely keep you coming back for more.
As you enter through the glass doors, you take your place at one of the wooden tables, you'll be greeted by warm, swollen pitas in paper-lined raised wooden trays.  The menu here is quite extensive, might we add affordable so take your time to flip through the appetisers and main courses while you enjoy chunks of warm, soft, pita that will be quick to melt in your mouth.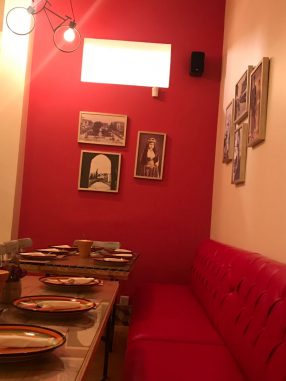 The combination of pita with cream cheese, mint leaves and tomatoes is always a good start so we opted that for starters, followed by seamless Hummus with olive oil pooling in the centre, spiced potatoes, crispy Falafel and the Fattoush Salad that is moist yet crispy followed by a meaty course to satisfy our budding appetite.
If you are a group of three the Mixed Platter is a good choice for the main course - a bit of everything- chicken, beef and lamb along with grilled vegetables. The meat itself is carefully selected and prepared by the staff, ensuring that the quality is never compromised. As we spoke to the owner herself, a few words that left us inspired and of course will stick by us (for life) are,
"If you are doing something, do it right" and that itself seems to be the best way to describe the
restaurant
.
The real star of the eatery, however, is the
Zaatar
bread itself, a thin pita that comes stuffed with herbs and the mint lemonade that is refreshing, hydrating and cool in this scorching heat.
But if you want to end on an even sweeter note, make sure to order the Kunafa which is something extra ordinary- this was our favourite part.
Rating: 4.8 out of 5
A casual dining place which is a friendly and safe environment, the staff is courteous and the food is delicious. You will not be disappointed.