'NO GOSSIPS, NO NEGATIVITY = HAPPY LIFE' , 'GHABRANA NAHI HAI' STAR SABA QAMAR ON HER LIFE MANTRA AND WHAT MAKES HER SO SUCCESSFUL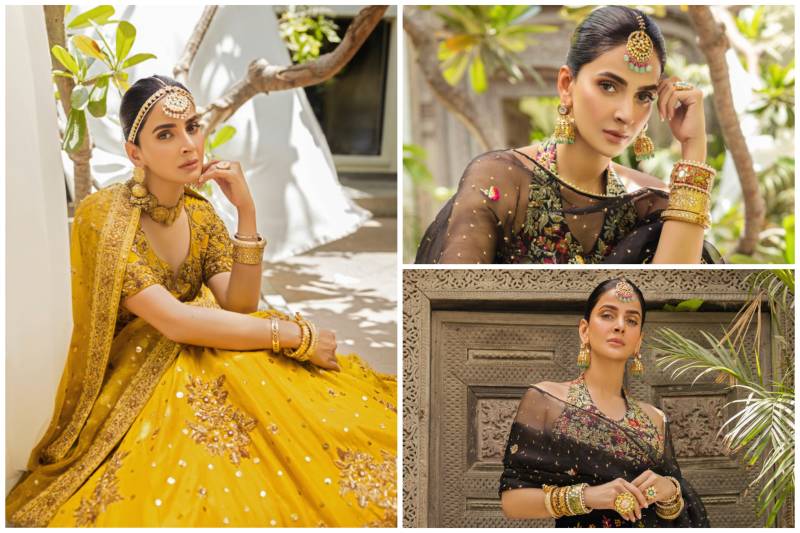 Saba Qamar is a superstar and her name now is synonyms for success – be it a drama or her silver-screen appearance, the actor knows her strengths because it's not just her acting abilities that floor the audiences but also her eye for roles with variations. Overtime she has built herself a name big enough for directors to either write roles particularly for her or trust her aptitudes to take on any character and make her own. We have seen her in different shades, sometimes as girl-next-door and other times an empowered woman who can literally challenge the whole society.
We're once again excited to see her back on silver-screen after a while – this time in Eid release 'Ghabrana Nahi Hai' that had the audience flocking to the cinemas to watch their favourite superstar Saba alongside Zahid Ahmed, her co-star from 'Besharam' days – their chemistry is always loved and appreciated.
We spoke to the beautiful human that is Saba for her latest movie and talked about other important things as well along the way. Read on...
Hello Saba! Thank you for gracing our cover once again and this time for your movie 'Ghabarna Nahi Hai'. Tell us how was it working with Zahid Ahmed again and is there a cute/funny moment from set you'd like to share with us?
---
Every moment was full of fun, Zahid and I are really good friends and it's always fun working with him – the only issue we always have is that hes never on time and I'm the most punctual person on set and this is what we hate about each other. (Laughs)
---
Could you identify with your role in 'Ghabrana Nahi Hai'? What made you choose this character/film?
---
The character speaks for itself, it's about empowering woman and you know that I always fall for such roles, I'm sure the audience can connect to this fun loving, crazy character in the film.
---
We all know where the phrase 'Ghabrana Nahi Hai' comes from but what's the significance of it in this movie?
---
We all grew up listening to this word that in every difficult situation all you need to do is 'ghabrana Nahi hai' so this film is all about that only.
---
You have an amazing quality of doing roles and swinging from girl-next-door to nailing unusual characters with nuances of evil. Which one you enjoy doing more and tell us about a character that felt closest to your real self?
All the characters that I do are very close to my heart – I feel each of my character has something in me and they hold a special place of their own in my life
Your character selection and which dramas you pick is very particular and different; what do you look for in a character/drama when selecting a script? Is it just the story or it matters who you're working with?
I think I look for both the things. I believe both of these things are equally important – they add on to the final product equally
One can easily tell that how engrossed you're in a character that you play on-screen but does that come with a challenge of snapping out of it when you're done? Or you can easily switch back to being Saba? Do intense characters ever take a toll on you?
---
100 percent all the intense characters take a toll on me and 'Baaghi' was the most difficult one – I went into a depression after doing that and I wasn't able to work for at least a year. I take my characters very seriously.
---
We're finally seeing you in a few dramas/movies this year after a little break. Tell us which project are you most excited for?
I am excited for all my projects – I guess all of them are so different from each other and the switch of roles and diversity that you'll see is what excites me the most and I'm very happy to receive the feedback of my fans who've been eagerly waiting for my projects.
You've been in the industry for years now – what's the biggest change you have seen in yourself when you first started until now? What's the recipe of success and sustaining for so long in an industry that has usually very short-lived careers especially for women?
I guess one has to believe in themselves and keep going. Avoid negativity by just being concerned about your work – avoid gossips, stay hydrated, be content, believe in Allah and keep going.
As an actor we've seen you pick roles that are impactful and also has a societal message. Currently is there a topic or role you wish can be made and you'd love to be a part of it and shed light on it?
---
I'm anxiously waiting to do a role on a political personality. I want to do something like Benazir Bhutto, or any other female political character, I feel I'm ready to do something like that and excited too. So let's see
---
How do you deal, when your films/dramas don't work as well as you had hoped?
I believe that is also for something good and they teach me a lesson because we all learn from our mistakes and that's how it should be, we should all take criticism positively since everyone has their own opinions and we've to respect them.
Have there been moments in your cinematic journey or life where you felt that you could have given something more?
Not really, I'm very happy with whatever I've achieved in life and I'm working every day to do better.
You come across as a very private person. So, what has led to this personality trait?
As I said above, no gossips, no negativity = happy life.
---
I've very limited friends and I'm very happy with them, otherwise I believe everyone I meet becomes a good acquaintance and we respect each other when we are working that is what matters.
---
In celebration of some of your memorable on-screen personas, we've picked five characters you've brought to life, on screen, share a piece of advice that would alter their fate in your respective dramas:
'Mannat' in Cheekh. I'm proud of you
'Meeta' in Hindi Medium. Again, I loved playing Meeta
'Mishal' in Besharam, we need people like you
'Farida/Rashke' Hina in Digest Writer, what a powerful character
'Saman' in Maat, I hope you learned your lesson (Laughs)
INTERVIEW: SUNDUS UNSAR RAJA
WARDROBE: ANSAB JAHANGIR
STYLING: ZAHRA SARFARAZ
HAIR AND MAKEUP: BRYAN AT NABILA
JEWELLERY: ALI JAVERI JEWELLERS
LOCATION: KOEL CAFE
PHOTOGRAPHER: SHAHBAZ SHAZI
PR AND COORDINATION: PH SOLUTIONS