Couture Pastries That Make You Feel Like You Are in The Heart of Paris
Ever so slightly sweetened inflated dough-lumps, filled with sweet, sweet whipped cream and dolled up with powdered sugar. Impossible to eat without getting messy. And impossible to eat without falling in love with the little thing. For me, this love started decades ago, back when I was a kid, from the most sought after bakery, in Islamabad, at that time. Opening those orange boxes, every time, was not any less than unwrapping a present. My ultimate treat - Cream puff. A staple in almost every local bakery or pastry shop in Pakistan, and a standard on the menu of every tea party, these choux buns were a favorite of the entire nation!
The origin of choux (pronounced: shu) can be traced back to 1547, when master Italian pastry Chef Panterelli developed a light airy pastry that he called pate a Panterelli. In the 18
th
century, a pastry chef named Avice created a pastry known as choux buns from Panterelli's dough. The buns were called choux (French for cabbage) because they bore an uncanny resemblance to tiny heads of cabbage. The dough for those buns began to be known as pate a choux (French for choux pastry). The pastry was extremely versatile and came to form the base of many mainstay French preparations, including profiteroles, croquembouche, éclairs and beignets, just to name a few.
The local bakeries in Pakistan went only as far as cream filled choux buns and éclairs, before pulling the breaks. However, as we travel more towards the culinary hubs of this world, we discover that these little air pockets of golden goodness, have been through major makeovers by the pastry gods of the world of gastronomy. These days we look for food that's
instagram-able
. It not only needs to be pleasing to the palette but also to the eye, and these pastry chefs are ticking all those boxes, and beyond! Feast your eyes on these little darlings created by Joakim Prat, three star Michelin pastry chef and owner of Maitre Choux. Not only are they show stoppers, visually, but they are an absolutely treat flavor wise aswell: rhubarb and raspberry, hazelnut and milk chocolate, pistachio, salted butter and caramel, coffee, vanilla and pecan and sun kissed strawberries.
While in Bangkok, during easter holidays, I got a chance to try out these couture pastries. Fauchon has had a history of creating high-fashion éclairs for Vogue, Lacoste and Givenchy. These pretty little things can give any model a run for their money! Dressed so glamourous, the French sourced ingredients of these pastries, make you feel you are sitting right in the middle of the fashion capital of the world: Paris.
Soft luscious dough, filled with the silkiest ever Côte d'Ivoire plantation milk chocolate cream, combined with delicate Chantilly cream, and mirror glazed in chocolate. This limited edition, easter éclair came encased in a delicate tempered chocolate nest. An absolute party in my mouth!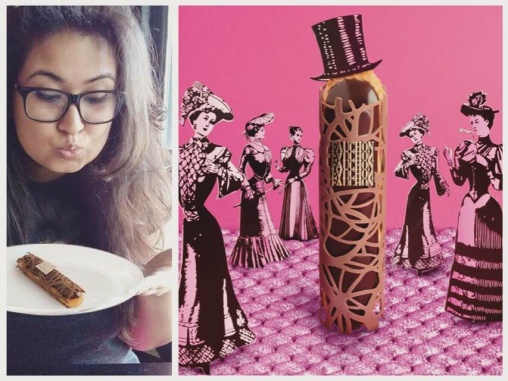 Totally inspired by these magicians of the pastry world, I dug up my recipes from the chefs who trained me, and decided to give these fancy-shmancy pastries a shot. Choux-chocolat filled with chocolate pastry cream, topped with craquelin and chocolate glaze. Not as perfect as I would have liked them to be, but they did manage to get me all fuzzy and emotional.
In Marylin Monroe's words: Give a girl the right
shoe
choux, and she can conquer the world!!