Travel Like Royalty into the Opulent World of Dubai's Jumeirah Zabeel Saray | A Palatial Retreat on Palm Jumeirah Island | Experience the Grandeur of the Ottoman Empire
Nestled in the lively city of Dubai, Jumeirah Zabeel Saray is a magnificent luxury hotel that embodies the opulence and grandeur of the Ottoman Empire.
Situated on the iconic Palm Jumeirah island, the hotel boasts 405 elegantly-furnished rooms and suites, draped in lavish fabrics and adorned with extravagant marble finishes and intricate wood carvings. Offering breathtaking views of the Arabian Gulf, this hotel is a perfect sanctuary for discerning travellers seeking a blend of classic sophistication and modern convenience.
The striking architectural design of Jumeirah Zabeel Saray is a masterpiece that reflects the artistry and splendour of traditional Turkish palaces. Featuring a grand exterior with majestic domes, ornate archways, and decadent detailing, it is truly a sight to behold. The awe-inspiring interior is equally impressive, where no expense has been spared in creating an opulent haven for guests. The lobby alone boasts grand crystal chandeliers, sparkling marble floors, and intricate period furnishings.
The accommodation options at Jumeirah Zabeel Saray are nothing short of extravagant. With a blend of Ottoman-inspired decor and modern amenities, each room offers a luxurious retreat, featuring oversized beds swathed in sumptuous linens, plush armchairs, and marble bathrooms with rainfall showers. From the luxurious rooms to the expansive Royal Villas, guests are spoilt for choice with the royal treatment they receive.
The dining options at Jumeirah Zabeel Saray are equally impressive. Guests can savour the delicious gourmet fare at the hotel's award-winning restaurants, each offering a unique dining experience; Al Nafoorah offers authentic Lebanese cuisine, while Imperium offers an array of international flavours. Indulge in Boho chic beachside dining with South American flavours at Zenzi Beach. Savour the flavorsome cocktails and mocktails in the hotel's elegant bars like Sultan's Lounge and Zaabaa.
For those seeking relaxation, the Talise Ottoman Spa is a perfect oasis, one of the largest spas in the Middle East where guests can indulge in a myriad of therapeutic massages, revitalizing facial treatments or detoxifying Turkish hammams. The journey starts in the magnificant Royal Majlis and upon entering the hammam, guests will feel the glow of the gentle heat from the marble 'goebektas' as it softens the skin and relaxes the muscles. Wander over to one of the many marble 'kurnas' to rinse and prepare the body for the hammam ritual.
The lush tropical gardens, pristine beach and infinity pool with sea views offer additional space to disconnect and relax, while fitness enthusiasts are welcome to treadmills and weights in the well-
equipped gymnasium.
Guests at the resort can watch the stars in style by enjoying the ultimate movie experience. A 29-seat cinema with luxurious sofas awaits you, with movies ranging from different genres. The variety of screenings allows guests of all ages to enjoy a movie experience like no place else whilst indulging in snacks and beverages.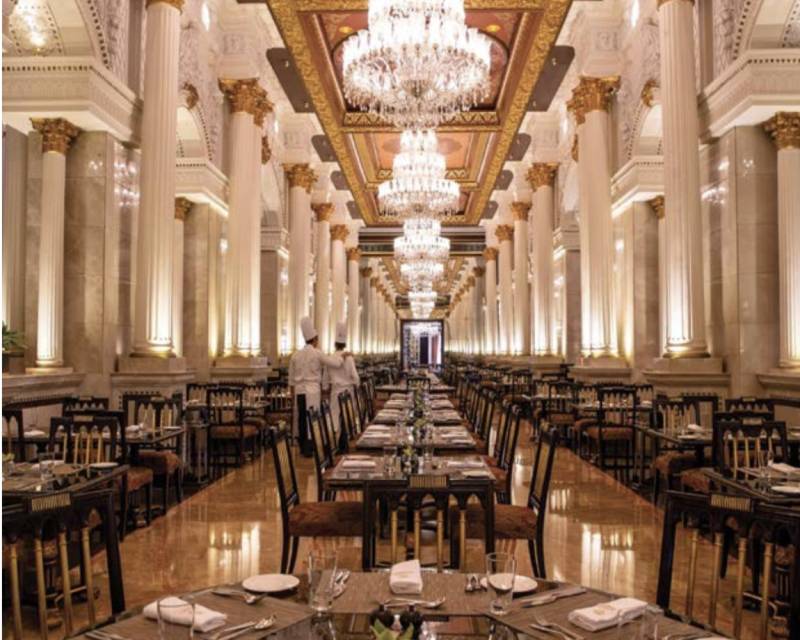 With its stunning architecture, world- class amenities, and warm hospitality, Jumeirah Zabeel Saray is a premier destination for discerning travellers from across the globe. It is a true testament to the luxury and grandeur of the Ottoman Empire. For travellers seeking an indulgent escape to Dubai's vibrant city, this is a hotel that is not to be missed.
Discover an exceptional escape at Jumeirah Zabeel Saray and enjoy up to 20% savings on their Flexible Rate with exclusive privileges and further discounts on wellness and dining.
- Up to 20% off their Flexible Rate when the guest stays three nights or more
- Options for Daily breakfast & Half Board when booking through Jumeirah Escapes
- USD 100 per stay resort credit (for Suite bookings)
- Access to award-winning facilities at Talise Ottoman Spa
- 30 complimentary minutes at Talise Ottoman Spa with every 60-minute treatment
- Unlimited access to temperature-controlled infinity pool and a revitalised private pristine beach
- Access to Sinbad's Kids Club at Jumeirah Zabeel Saray
- Club Executive Lounge access when staying in club rooms and suites Exclusive preferential rates to Wild Wadi WaterparkTM
- Flexibility in your hands: Book with them for flexible cancellation option on your stay.
- Become a member & collect exclusive Jumeirah One Points when you book direct through Jumeirah:
- Late check-out at 14:00 (subject to availability)
- Additional 5% savings for Jumeirah One members Complimentary upgrade to the next category from standard room category (subject to availability)