Chef To Billionaires and Royalty, Saima Khan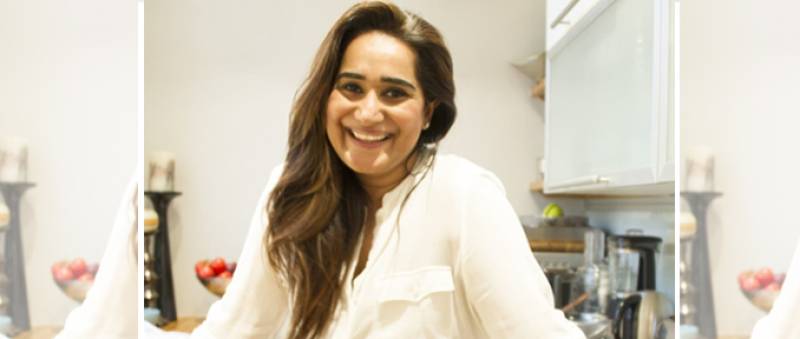 When we first met Saima Khan, founder of The Hampstead Kitchen, her passion and knowledge of food was immense and immediately apparent. The banker turned chef quit her lucrative career in Risk Management to pursue her dreams. She combines her love for food and flair for business.
You gave up a six figure salary to pursue your passion. Did you ever think it would work out like this?
Not at all; no one ever knows how it will turn out, if we did, then it would be far too easy. I guess you have to follow your instincts, and of course do your research and hope you have a great business idea. However, it has exceeded my expectations and still overwhelms me till this day.
Your signature is in the way you present the delightful dishes you cook. How do you go about sourcing the elements of the presentation?
This is based on the client and the event. Although even whilst in my banking career I had more crockery, table linens than clothes. Recently we catered a wedding in Paris for 500 for a Parsi family. We had to travel to Turkey to source crockery for 50 tables, where each setting was different for each table. One the other hand we have clients who want unusual table settings with flowers, candles created especially for the event.
You have cooked for worldwide icons from billionaires like Warren Buffet, Bill Gates and Mark Zuckerberg to Middle-Eastern royalty. What is it that they all love most about your food?
I think they love the sharing aspect of it, as opposed to the a la carte style food served in white fine china plates with tiny pieces of food stylised in the middle. They are so used to seeing this kind of food and setting, that when they see the abundance of colourful platters in the middle of the table, it's exciting and creates an anticipation even before they have sampled the food. It encourages you to interact and make conversation, making it a far more enjoyable meal.
Personally, which of your delicious creations do you like most?
My Mediterranean and Persian sharing banquets – I love seeing how people respond to the simplest of dishes which are served in humble little bright
bowls. I love my slow cooked lamb; it's marinated for 36 hours and then slow cooked for 8 hours, it's a real crowd-pleaser and our signature dish
What has been the best thing about starting your own business so far?
Having the luxury to design my own time and workload so I can spend more time doing the things I both want and love to do. I love how I can adapt
my business according to my clients and the seasonal holidays, its incredibly diverse and rewarding
If you were to write a book, what would it be called?
"This is not a recipe book" – I'd rather have a book that starts people on a journey where they can think about how much time they have and when they are cooking whether it's a mid week dinner after work, a book that would help them shop and prepare something quickly. Then you have the weekends to try something more complex.
Your cooking philosophy in one line.
The first bite is with the eye. Food has to look good in order for people to even enjoy it.
Favourite Food?
My mum's Mince Lamb with chilies and coriander and buttered rice any day of the week.
A chef you take inspiration from?
There isn't one chef I take inspiration from. I guess my parents, because mum was super fast and could create 20 dishes in a hour, and my father as he
would love presenting food. I guess I would like to think I have taken inspirations from both. I do follow chefs who respect the sourcing of good
produce and focus on seasonal dishes. Its something that I aspire to do whilst living in an urban city like London.
Saima shares her lamb recipe exclusively with Hello! See below for her Special Lamb Recipe:
Ingredients:
• 1.5 kg to 2kg of boneless lamb or leg of Lamb
Marinade:
• 1 cup of olive oil
• 1/4 teaspoon of ground cinnamon
• 1/4 teaspoon freshly grated nutmeg
• 1/4 teaspoon ground cumin
• 1/4 teaspoon smoked paprika
• 1/4 teaspoon black pepper
• 1/4 teaspoon ground cardamon
• 8 cloves crushed in a pestle & mortar
• 6 cloves of garlic crushed
• juice of 1 lemon
• 2 teaspoon of pomegranate molasses
• 3 teaspoon salt flakes
Recipe:
• Combine all the above and smother all over the leg of lamb or stir into the boneless lamb.
• Cover with cling and leave this in the fridge
• Once you are ready to cook, char-grill in a hot griddle or put the oven (Gas Mark 200) really high for 15 minutes on each side.
• Cover with foil and slow cook for 4 hours on a medium heat in the oven (Gas mark 180)
• Open the dish after 2 hrs and put in 1 cm of boiling water and cover tightly with foil.
• This keeps the meat juicy and succulent inside while leaving it char-grilled on the top.
• When it's cooked, the meat should come away quickly from the bone, or if you are doing boneless lamb, test one and it should melt in the mouth.
• To serve simply scatter pomegranate seeds, fresh torn mint and toasted pine nuts.
• I like to have this with either a nutty rice, minted potatoes or char-grilled red onions & sweet Romano peppers.
• If using boneless lamb cubes, you can put these on skewers, scatter them on rice, service with rice or potatoes, it's a very versatile recipe, adapt it to whatever the occasion.
Subscribe online to our exclusive magazine stories: https://www.joomag.com/en/checkout/express/205694