Zeb Bangash Opens at the Fairbreak Invitational'22 with a Soulful Performance!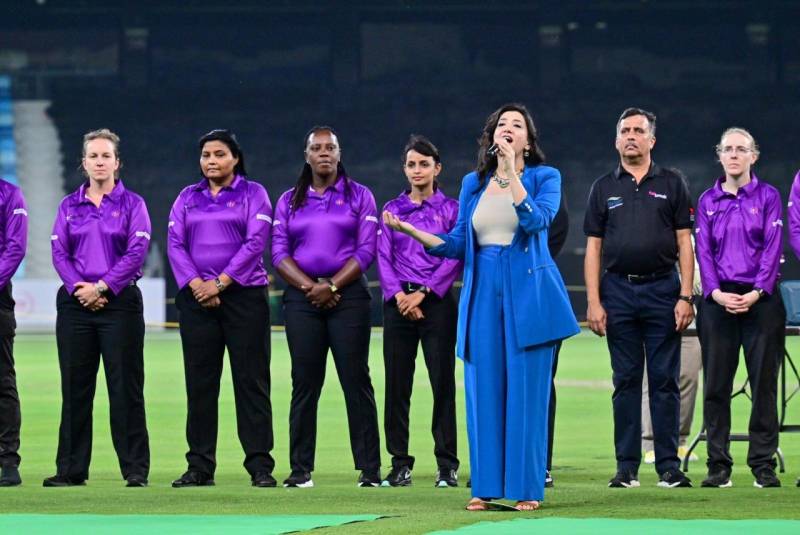 The much-awaited all women's cricket tournament, the coveted 'Fairbreak Invitational 2022' kicked off in Dubai with a melodic performance by none other than Pakistan's nightingale, Zeb Bangash. The singer delivered a spectacular musical ode to women's cricket - a two-song set that began with the popular title track of the Pakistani drama serial, 'Sinf-e-Ahan' and concluded with a specially curated multilingual rendition of Dusty Springfield's popular song, 'You Don't Own Me', in collaboration with Benjamin Lazar Davis and Syed Misbahuddin.
Renowned for her soulful melodies, Zeb Bangash stole the show with her homage to empowered women across the globe and the cricketers of the 6 squads playing the tournament who flanked her to the right and left during her performance.
She spoke a few heartfelt words to conclude her set. Bangash said she was immensely proud and happy to be a part of this all women's tournament, and also lauded the achievements of Pakistan's very own Sana Mir, Bisma Maroof, Aliya Riaz, Diana Baig, and Sana Fatima who represented Girls In Green in Fairbreak Invitational 2022.
Zeb Bangash also spoke about the importance of such a tournament in empowering women: "Ladies today, I dedicate to you a poem in my native Urdu celebrating you and women everywhere. Each of you 'Women of Steel' inspires me and countless others with your passion and commitment. May there never be any looking back – onward and upward."
Clad in a cobalt blue suit designed by Aasia Sial Khan, Zeb was bedecked in jewellery by Amber Sami. The be-spoke necklace Zeb wore was strung together exclusively for the opening and honoured the diversity of the representation from various countries that have come together for this one-of-a-kind tournament. The chaand-taara neckpiece adorned by Zeb for the opening ceremony caught our eye.
Fairbreak's T-20 tournament is being played in Dubai and features a diverse mix of talented female cricketers from 35 countries. This is the first-ever private tournament to be held on a global scale in the history of women's cricket.