Rizwan Beyg Displays Truck Art Attire At The Commonwealth Exchange Project
Pakistani designer Rizwan Beyg has created a skirt and coat for the Commonwealth Exchange project, featuring motifs designed by the 'truck artists' of Pakistan. The pattern of the garment was first worked on by original truck artists and digitally printed on silk after which it was embroidered by the village women of Bhawalpur.
Rizwan Beyg's design philosophy is, and always has been, 'Pakistan Modern'. Shooting to fashion fame in the late 80s, the young architecture student had a determination to take the essence of Pakistani style, and modernise it for a contemporary audience. Pakistan Modern loses none of the traditions that are the hallmarks of the country's culture. The chogha, achkan, lehnga and farshi are cleverly reinvented by Rizwan, experimenting with volume and structure, and often showcasing Mughal embroidery and embellishment. In 2013, Rizwan created the first collection inspired by 'truck art' – the style of design found on Pakistan's rickshaws, inspired by nature, and painted by rural artists. Rizwan continues to work with 'truck artists' who design the colourful motifs for his collections, which are then embroidered onto jackets, waistcoats, skirts and accessories.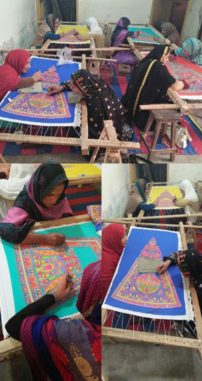 ​The
Duchess of Cambridge
and Sophie Countess of Wessex at the Rizwan Beyg
truck art
based garment representing Pakistan at The Commonwealth Exchange at Bukingham Palace.