H! Pakistan ANNUAL ANNIVERSARY AWARDS
SABA QAMAR
ALL TIME FAVOURITE SUPERSTAR
Talented, strong and versatile – Saba Qamar – is definitely a force of nature within the industry. However, despite her superstar status she is still the most down to earth individual we know.
Could anyone be cooler than Saba Qamar? Whether she's acting in a drama or movie or giving us a much- needed 'Saba Qamar' dose through her social media/ YouTube or just being herself, everything she does (or clicks) reminds us why she's literally one of the most followed and loved celebrity we have in Pakistan. A true superstar in every way, reigning queen of Pakistan's entertainment industry – a talent we're blessed to have.
CRUISING & CRUSHING IT (ACTING DEBUT AWARD MALE)
HSY
The maestro, HSY, has proven once again that his mastery isn't merely limited to the world of fashion. HSY, as Akram is just unbelievable to watch. The body language, the dialogue and the voice pitch – everything is so splendid that one cannot even fathom Akram as anyone other than HSY.

CRUISING & CRUSHING IT (ACTING DEBUT AWARD FEMALE)
HADIQA KIANI
Hadiqa Kiani, as Sakina, in her debut role in drama Raqeeb Se – is a wonder to behold. The transformation was spectacular and unexpected to say the least. Sakina (As portrayed by Hadiqa) is the embodiment of a rural woman with an abusive husband. She definitely blew us away with her acting.


THE ACTING CHAMELEON AWARD (FEMALE)
YUMNA ZAIDI
From Mahjabeen to Hajra to many others – Yumna Zaidi never fails to deliver a fantastic performance whenever she is onscreen. Her acting choices over the years have been interesting, to say the least, and have lent her a diversity in work that few can boast of.


THE ACTING CHAMELEON AWARD (MALE)
IMRAN ASHRAF
Imran Ashraf as Bhola, Adam and now Moosa. Is there no end to this man's shapeshifting capabilities? He is perhaps the only actor in the industry whose portfolio boasts of a spectacular variety of characters – each having been executed with great care.
NEW KID ON THE BLOCK (ACTING)
DUR-E-FISHAN
Dur-e-Fishan graced our screens in Dil Ruba (Her debut drama) and has won our hearts ever since. A young and definitely talented actress who did impressive work in Bharaas - She is the new kid on the block to watch out for.



BEST VILLAIN IN A DRAMA
MINAL KHAN, JALAN
It takes a brave and gutsy woman to take on the role of a character so heinous that it makes your skin crawl. Minal Khan in Jalan has definitely outshined everyone with her acting prowess.
MOST IMPRESSIVE COUPLE
SAJAL ALY & AHAD RAZA MIR
Successful as individuals – and phenomenal together! This couple is just a few steps shy of being the power couple of the industry. Their portfolios amass an impressive array of projects. They are indisputably the most impressive couple of this generation.

DRESS TO IMPRESS DUO
AYEZA KHAN & DANISH TAIMOOR
We don't think we've ever seen the stunning Ayeza Khan and the handsome Danish Taimoor step out in the public eye without looking picture perfect. Even their kids are always stylishly dressed. As a couple they certainly dress to impress.


THE LEGENDS
SAMINA AHMAD & MANZAR SEHBAI
Veterans of the industry, with decades of accomplishments under their belt both Manzar Sehbai and Samina Ahmad make a couple whose talents combined have reached the status of legendary. Not to mention, they're the cutest newlyweds around.


BEST SCRIPT OF THE YEAR
PYAR KE SADQAY
Writer Zanjabeel Asim Shah must be credited for penning a script that hardly disappoints; and is immensely entertaining to watch. With drama, intensity, love and comedy all perfectly blended into a satirical piece – this story, albeit simple – was brilliantly penned and executed. Hence, making it the best script of 2020.






MOST ANTICIPATED DRAMA OF THE YEAR
KHUDA AUR MOHABBAT 3
The much hyped and highly anticipated drama of this season – Khuda Aur Mohabbat '3', has been breaking records with every episode that is aired. Written by Hashim Nadeem, the third installment of the famous franchise is indeed as magnificent as promised. From an ensemble cast, sets, locations, to wardrobe and production design, everything in the drama oozes grandeur. 7th Sky Entertainment has delivered their finest and we can't wait to see more of it.

BEST DASTARDLY CHARACTER IN A DRAMA
(FEMALE)
SANA JAVED, DUNK
Sana javed – as Amal in Dunk – executes the role of a psychopath with great intricacy. The nuances she captures of Amal – as a girl who feels no guilt over what she has done and is yet innocent in certain aspects while coldly manipulative in others is nothing short of phenomenal.



BEST DASTARDLY CHARACTER IN A DRAMA
(MALE)
AHSAN KHAN, QAYAMAT
The transformation of Ahsan Khan into the belligerent, abusive and cheating Rashid, is spectacular to watch. Not to mention he even manages to make us laugh at his character in some instances. It is an impressive feat to make one hate a character so much and yet allow us to laugh at him as well.


BEST PRODUCER DUO
ABDULLAH KADWANI & ASAD QURESHI
The dynamic duo of 7th Sky Entertainment, production house has given us and this industry some of the most amazing drama serials to watch and cherish forever. Their dramas have always been complete packages, with brilliant casting, remarkable stories and super catchy OSTs. In 2020-2021 the production house gave us some of the top dramas like Muqaddar, Deewangi, Qayamat and Khuda Aur Mohabbat 3, to name a few.
LEAVING A LEGACY
HASEENA MOIN
Haseena Moin was undoubtedly, one of the most prolific and gifted playwright in Pakistani history. Her work was not only loved and respected nationally but across the border as well. The pioneer behind the strong, smart and independent female characters in Pakistani dramas was known for writing classics like Tanhaiyan, Anakhi, and Dhoop Kinare.



THE GIRL NEXT DOOR
MADIHA IMAM
She isn't one to let a stumbling block get the best of her. She's fearless in her confidence, limitless in her talent, a force to be reckoned with on stage, and yet a perfectly relatable girl-next-door.


MOST STYLISH ACTRESS
SONYA HUSSYN
The way she manages to be on point each time with her looks while keeping it all as minimalistic as possible, she is definitely the celebrity we are going to be taking a lot of style inspiration from! Simplicity after all is the best policy!

MUSICAL ARTIST OF THE YEAR
ABDULLAH SIDDIQUI
The young electro-pop musician has been around for quite some time but in 2020-2021 he literally stunned everyone with his music, be it his solo work or collaborations, PSL team Peshawar Zalmi's anthem or his work with Meesha Shafi, Abdullah Siddiqui hands down has been the most active musician with best work on his resume.

NEW KID ON THE BLOCK (MUSIC)
HASAN RAHEEM
Nostalgic indie-pop, that sounds like summer, Hasan Raheem's music has been a breath of fresh air. The singer-songwriter from Gilgit who shot to viral fame with his track 'Aisay Kaisay' has proved himself to be much more than a one-hit-viral-wonder, with more songs and interesting videos just in a year. Sweet but not too sickly, familiar but still fresh, Hasan's indie sound stands out in a mainstream music landscape providing a breath of fresh summer air.

GREATEST COMEBACK OF THE YEAR
NASEEBO LAL
A collaboration no one thought they needed to see until they saw it. Although the PSL song Groove Mera opened to mixed reviews, we couldn't be more thankful for Naseebo Lal's come back! She definitely gave life to the song and also got us grooving along her to groove.

MOST ENTERTAINING PSL SONG
LAHORE QALANDARS
The most exciting and enthusiastic song for this year's PSL. Abrar Ul Haq doubled the fun with his energy and brought back the jazba (even if it was just for one city!) and the video of players just having fun, seemed as impromptu as it can get. In short, full of entertainment.

FAVORITE ROCKSTAR
UMAIR JASWAL
One-man show. His energy level is unmatchable. He is the most charismatic and vibrant singer this industry has ever had. In 2020-2021 his travel show Raahi was exciting to watch and his song Gagar literally became the party anthem of the year.

FEMALE MUSICIAN OF THE YEAR
AIMA BAIG
A brilliant package. From sad songs to party jams - she nails it every single time with her powerful, melodious voice and magnetic screen presence.


VOICE OF THE NATION
ATIF ASLAM
From being the most favorite musician of Gen Y to continuing to win hearts of Gen Z with the same and also super fresh tunes, this genius has a league of his own. Here's to another lifetime of enjoying Atif's music.

EXITING IN EXCELLENCE
STRINGS
We believe that the music industry is what it is because of Strings. With a huge variety of songs - from western music to classical eastern to fusion - no matter what happens, Strings will always be our go to band for happy times and sad.
BEST HOST OF THE YEAR
TABISH HASHMI
Well-known stand-up comedian Tabish Hashmi 'to be honest' is one host that keeps you glued to the show with his one-liners and jokes. The host of Pakistan's first digital show, to be telecasted on TV is a treat to watch.

MOST VIRAL TREND
DANANEER - #PAWRIHORAHIHAI
In today's world where sadly Lollywood and Bollywood dont work together anymore, the 'Pawri Horai Hai' girl Dananeer managed to get people and celebrities across the border to jam to her #pawrihoraihai video trend. With an array of celebrities jumping on the bandwagon of trying this trend, from both sides of the border, this viral trend has to be be the most popular one from 2020-2021.

BEST FASHION CREATIVE
ZAINAB CHOTTANI
Zainab Chottani gave us super chic patterns and amazing colour combinations. Their presentation was absolutely amazing, brought the dreamland theme to life with the beautiful locations and backgrounds selected for each picture and print. From bridal exquisite designs to lawn, Zainab is always ahead in the game. She also launched Tahra Lawn from her other brand Tahra by Zainab Chottani in 2021 which again is another feather in this talented designer's cap.


BEST CAMPAIGN WITH A SOCIAL MESSAGE
ALI XEESHAN
He broke away from the norm of putting out glitzy pictures for his latest bridal collection and instead focused on addressing an important social issue - the old age tradition of dowry and did it brilliantly.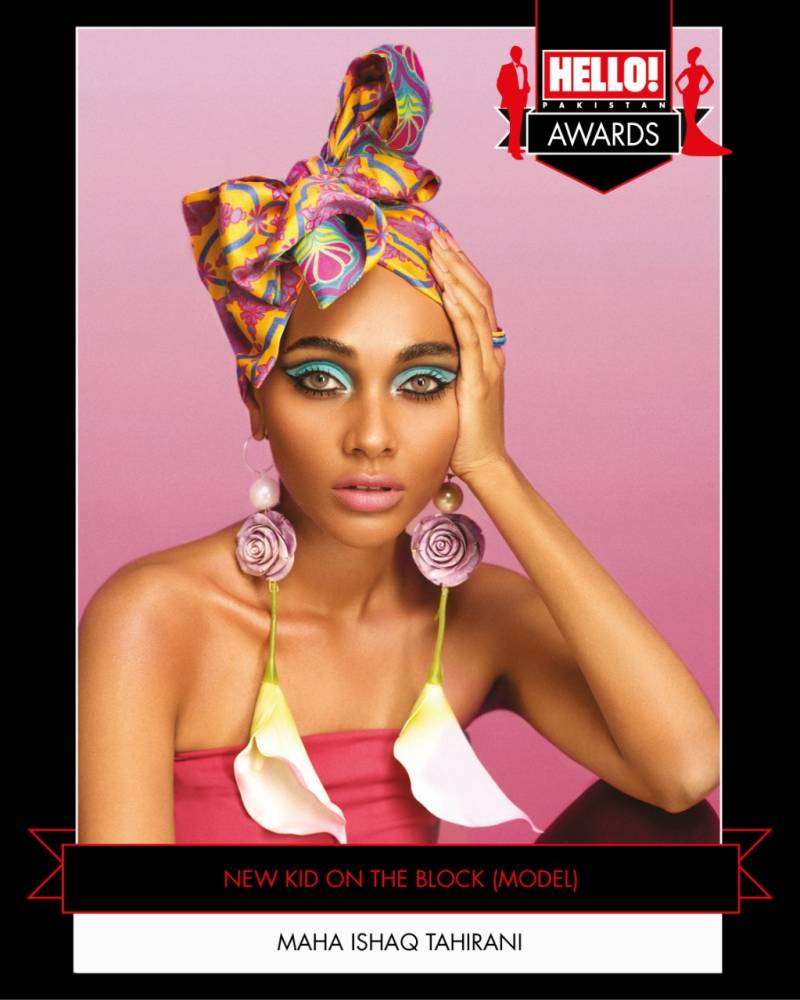 NEW KID ON THE BLOCK (MODEL)
MAHA ISHAQ TAHIRANI
In an industry so competitive, Maha managed to make her mark not just by looking ethereal (all the time) but also by being extremely hard working and dedicated to her profession.

BEST HAIR & MAKE-UP AWARD
NABILA'S
Be it bold looks or simple, traditional or modern, Team Nabila never disappoints. Their fearlessness, imaginativeness and willingness to experiment and take challenges head on is what leaves us in awe of them.