London, Paris and Milan: This Season's Most Insta-Worthy Collections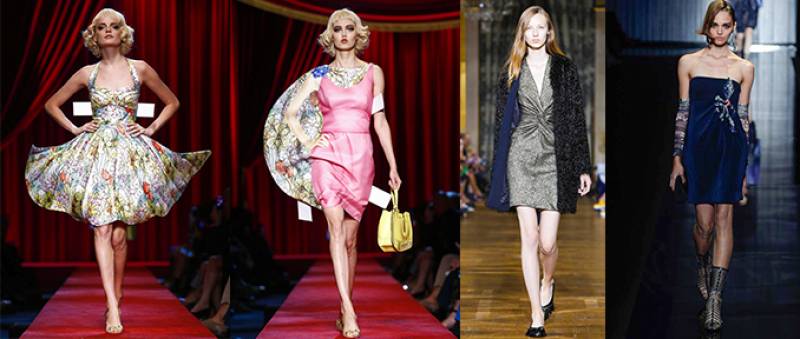 Moschino gave us paper dolls, while Armani served easy-breezy elegance, and Elie Saab delivered his usual couture worthy gowns. We pick the most memorable shows from London, Paris and Milan. Trust us, it wasn't easy!
Lanvin (Paris)
Practical, beautiful and so on point, Bouchra Jarrar's first show for Lanvin was the perfect marriage between personal style and house aesthetics. The decadent jewelry with effortless clothing screams Parisian glamour. Key pieces, including a dark navy dress cut to skim the body and loose embellished top with oversized sweater are what one would expect a young Jane Birkin to have in their closets.
Haider Ackerman (Paris)
Wow! Haider Ackerman's eclectic presentation left us completely breathless. From punk rock, to urban sophistication, the fashion chameleon's S/S collection was a delicious mash-up of ideas. The colour palette, the pleated lame and those sublime evening gowns-it's all simply spectacular. We'd wear that black suit in a heartbeat!
Prada (Milan)
Fresh, clean and genuinely gorgeous, Miuccia's latest outing is hand's down her finest collection in years. The stripped-down styling, cleaner lines and soft colour palette are a welcome departure from what we see in most other collections. We also love the throwback to early 2000's Prada; who else can make ostrich feathers and clashing prints look this chic?
Chloe (Paris)
Have you ever watched petals blowing on a perfect summer's day? No? Well, Clare Waight Keller's latest offering for the French fashion house has the same effect. This romantic, whimsical serving was a real breath of fresh air. The baby doll dresses, bow shoulders, and ruffles: absolutely dreamy.
Elie Saab (Paris)
Fun and flashy, the couture king's latest collection featured a generous sprinkling of stars. They could be found everywhere, from silk bombers, to dinky evening bags and shimmering resin platform heels. While the studded leather minis and long sequined minis have us drooling, it's the immaculate cut of Saab's jackets that most stand out.
Moschino (Milan)
We bow down to Jeremy Scott's vision. Never one to rest on his laurels, the designer is continuously challenging himself. He took a big risk with the "paperdoll" concept but it's one that's paid off. From the black "dress" with the "trench coat" slung over one shoulder, to the flounced cocktail dresses, each piece is incredibly clever and full of humour. We can't wait to see our street style queens rocking this collection- Miroslava Duma, anyone?
Giorgio Armani (Milan)
"Charmani", was the title of Giorgio Armani's spring/summer 2017 collection. A word play on 'charm', Mr. Armani clearly hoped to seduce guests with a series of wearable sheer-silk layered looks in gorgeous watercolours. It was a study in timeless femininity.
Erdem (London)
Compared to the lively spirit of previous Erdem shows, this one was more tranquil. The dresses were a little louche and the handwork showed careful signs of wear and tear. The exquisite workmanship was present everywhere from the delicate laced shoes to the light high-waisted dresses. Erdem Moralioglu has nailed the darkly romantic aesthetic.
Bibhu Mohapatra (London)
For his latest offering Bibhu Mohapatra sought inspiration from the Belle Époque—an age of relative prosperity, innovation, and idealism in Europe that ended with World War I.  He invoked the period's propensity for pure luxury with silk and tulle confections that were beautifully embroidered with pearls and crystals. A handful of gowns in eye-catching hues paid tribute to the period's silhouette with masterly draping at the bodice and waist. Just as lovely, but slightly more 21st century inspired were the lace outfits embroidered with quirky purple ruffles and a nail-head bustier dress. But, Mohapatra did warn audiences before the show: "This season, the girl is a little naughty. So watch out."