Hareem Farooq Shares the Secret to Her Success!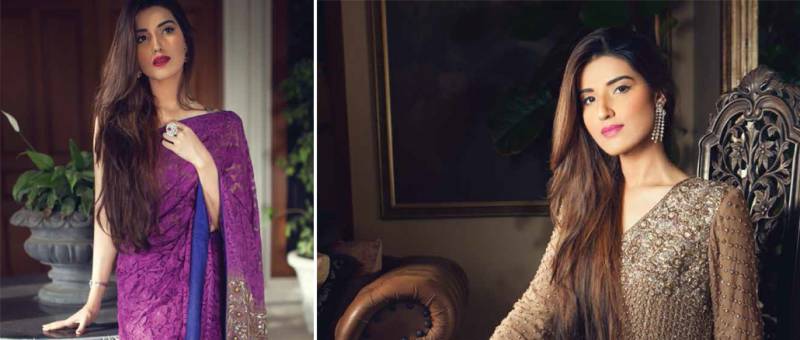 Beauty with brains, Hareem Farooq gives us an inside into transitioning from theatre to television. She shares the secrets to her success and her emerging career along with the spectrum of diverse roles she has been playing beautifully. 
To sum it in a single sentence, she says,
'I feel my theatre background gives me an edge sometimes and yes definitely my 'not so size zero' figure'
Hareem Farooq confesses that when she decided to join the bandwagon she was nervous and scared about all the many weird and rather absurd things people had to say about the industry. She was doubtful about her acceptance but fortunately, it was a smooth sailing ship. Luck was on her side and with a few helpful people she met along the way, she made her way to where she stands today.
You are an actor who successfully transitioned from theatre to television. How has the switch been?
Initially, when I started TV, I was very nervous. I didn't know many people and had heard so many weird things about the industry, plus I also didn't know whether the audience would accept me or not. But all that faded away very quickly! I consider myself really fortunate that I got to meet some very nice people who guided me and cared for me. Also, the type of projects that I've been offered have been great, so I'd say the transition was quite smoother than I thought it would be.
You have become a sensation quite quickly. How does it feel to be getting so much attention?
Again, I feel extremely blessed. It obviously feels great – I mean who doesn't like attention as long as it's positive, but I feel it's very easy to get carried away with all the attention that you get. One constantly needs to remind themselves of who they really are and of the responsibilities that come with the stardom.
What's the secret?
What secret? [laughs] I think there's no magic formula, for me it's just a lot of hard work, consistency, honesty and a bit of luck.
You have played diverse roles from a mother to that of a daughter. How do you do it?
Honestly, even I don't know how I do it. For me, the character has to be appealing; it should have some substance; it doesn't matter what age group it is. Plus, if you have a good director, it becomes easier to build up a character well enough.
What do you think sets you apart from all the other actresses out there?
I feel my theatre background gives me an edge sometimes and yes definitely my 'not so size zero' figure [laughs].
We hear you're starring in Mehreen Jabbar's upcoming film, Doobara Phir Se.
It's a very beautiful love story about a woman and a man who find each other in the weirdest circumstances and have an instant connection but have to overcome a lot of hurdles to be together. My character is a woman who's an artist and an introvert and how love changes her and makes here stronger to overcome challenges in life and eventually be with the man she fell in love with.
Your serial Diyar-e-Dil is a current favourite among the masses. How was the experience of working with such a great cast and what do you like most about the serial?
It was a wonderful experience working with such big names. Everyone was very supportive. Diyar- e-Dil is very close to my heart. Everyone from the cast to the crew worked extremely hard. For me personally, it was quite a learning experience. What I loved most about it was that for two months we were staying in the most beautiful places on this earth – the northern areas, with no technology for distraction, a brilliant director that is Haseeb Hassan with the whole cast present. I don't think I could have asked for any better circumstances to prepare the character. I believe hard work always pays off and we got the result once it aired.
You're co-producing the upcoming film 'Janan' with Reham Khan?
There is a slight misunderstanding when it comes to this topic. I'm not co-producing it – me and my partner Imran Raza Kazmi have started a production company by the name of IRK Films, which initially produced Siyaah. We have collaborated with Reham Khan on Janan and Inshallah we'll be announcing more projects very soon.
Local/International actors you look up to for inspiration?
Oh there is a long list! Locally, it's Bushra Ansari, Saba Qamar and Mahira Khan along with legendary Anwar Maqsood and Moin Akhtar. Internationally I would say Meryl Streep, Jennifer Lawrance, Anne Hathaway, Al Pacino, Heath Ledger, Kangna Ranaut, Vidiya Balan, Naseerudin Shah, Anupam Kher, Nana Patekar, Nawazudin Siddique, are a just few to name –as I said, it's a long list! It's their talent, achievements and genuineness off screen that makes me look up to them.
What is your dream role?
My dream role is to portray a strong woman! Someone who would inspire others! Especially our people!
Did you enjoy reading this feature? Leave your feedback in the comment box below!