7 Styles of Jeans You Should Be Wearing This Season.
1. Raw Hems
This style of jeans has been trending so much that it has now become a staple for the wardrobe. Buy yourself a pair from Zara or DIY at home; this styles looks best on skinny, cropped jeans.
2. Stickers on Jeans
The best way to add some color to your outfit, this trend was first made popular in the 1980s. From slogans to logos, stickers have a wide variety to choose from. and the best part? All you have to do is iron them on at home!
3. Patchwork Jeans
From runways to street style, this two-toned trend was a recurring style in 2016. Endorsed by the fashion giant YSL, we think you should embrace this style sooner rather than later.
4. Embroidered Jeans
Embroidered jeans took the fashion world by storm in 2016. Major celebrities including Amal Clooney have been endorsing this trend and we think this trend is a great mix of East and West.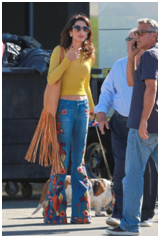 5. Acid-Washed Jeans
Another styles form the 80s, acid washed jeans are probably amongst the most hated fashion trends. They have, however, made a comeback in the 2016s. Hopefully, it won't last for long.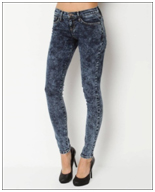 6. Holographic Patches
In line with the holographic craze that has swept the fashion world, mom jeans with holographic patches are now a thing. We're not sure how we feel about this trend.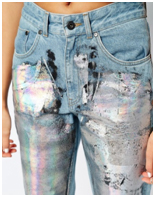 7. Flared Jeans
Get your 70s groove on with these flared jeans which will make your legs look endless. Victoria Beckham, Karlie Kloss and Kourtney Kardashian have all been spotted wearing this, amongst many others and what fashions 'it' girl do, the rest of us have to follow.