Victorian Flair: Five Ways to Nail Fall's Victorian Trend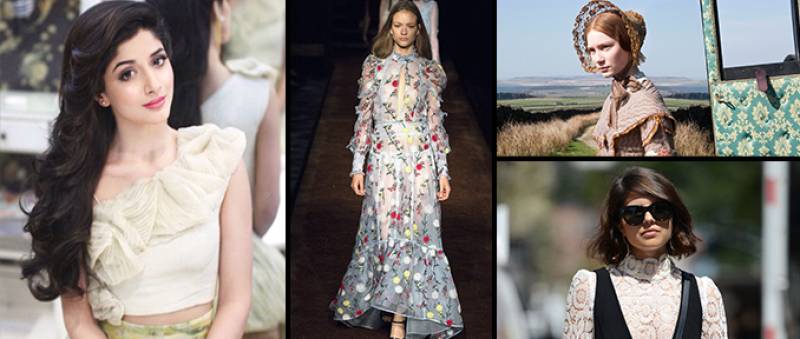 Say what you will about the buttoned up Victorian era- technically spanning from 1837 until Queen Victoria's death in 1901- but there's no arguing the fact that the historical period had a defining impact on fashion. Spotted on celebs from fashion's favourite It Girl Alexa Chung, to the peerless Beyonce, Victorian inspired garments are here to stay.
Get ready to time travel by saying hello to delicate lace outfits, pearls and subtly flirty ruffles. We show you the easiest ways to climb atop the fashion broomstick.
The Ruffled Shirt
The simplest way to embrace the Victorian trend is by donning a high neck ruffled white shirt. It's the ultimate wardrobe staple and works well with anything from jeans to cut-offs or high-waisted trousers. For a more opulent take add pearls, red lips and massive cocktail rings a la Dolce & Gabbana.
The Maxi Dress
Either buttoned up and pinned down, or artfully disheveled, the current regency revival calls for Victorian severity adapted to a modern spirit. Think Jane Eyre or Dickens' Estella, only with fewer fires and broken hearts. As seen at Erdem with blues and greys, an abundance of lace and bishop sleeves, the new Victorian maxi dress is high fashion at it's (surprisingly) wearable best. Try it for the opportunity to feel like your favourite 19th century heroine.
Go for Velvet
A velvet blazer is anything but staid. The luxe, sultry texture pairs beautifully with a tougher pant, such as flared denim or leather. It's also perfectly romantic when thrown on top of a pretty floral dress.
Say it with Jewelry
If you aren't up for investing in Victorian fashion, you can always rock the trend by changing up your jewelry game. Add a cameo brooch, an emerald cocktail ring in blackened sterling silver and layer a slew of bracelets in deep, dark tones and you're good-to-go.
It's the Little Things That Count
The best thing about the Victorian trend is how it seamlessly fits in with our wardrobe staples. A hint of sheer, lace, or ruffles is all that is needed. These traditional aspects can be made modern by concentrating on one component, as opposed to all three. Keep the look light and breezy to avoid looking like a dusty governess. The less fabric there is, the better.