Give Yourself a Salon-Like Pedicure At-Home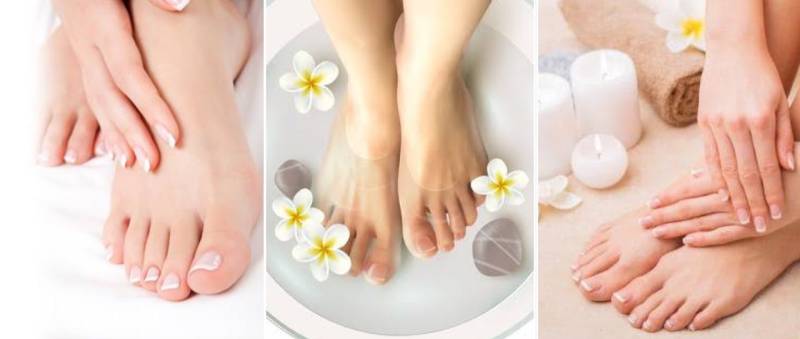 Right now, given the circumstances of course we all are missing our regular pedicures but don't worry you can easily achieve spa-like results even at home by following these simple steps. Ahead, find out a step-by-step tutorial on how to DIY a salon-quality pedi in the comfort of your own home.
Step 1:
Remove any nail polish you have on with the help of any nail polish remover. Even if you don't have any nail polish on, make sure to take a cotton pad and just use it on your toenails to get rid of any access oil
Step 2:
Fill your tub with warm water and  soap, you can opt for a body wash and let your feet sit in there for about 15 minutes. You can also add a few drops of any essential oil of your choice. Also add a few smooth pebbles to the water. These will provide a gentle massage as you place your feet 
Step 3:
After drying off your feet, use a foot file to remove any dead skin. Pay attention to the sides of your feet and your heels. Scrape these areas until they feel smooth, but don't overdo it. 
Step 4:
Use a nail trimmer to achieve the length and shape you want. We recommend cutting straight across and then going in with a nail file to buff out the corners. Also, many experts now recommend not playing with the cuticles as it Is a barrier to protect your surrounding skin and protect against infection.
Step 5: 
Now moisturise your feet as it helps soften, hydrate the skin and protects it from cracking. Rub a generous portion on your feet and massage well. Regular foot massages also help keep nerve endings stimulated, improve blood circulation and nourish the skin and foot muscles!
Step 6:
Now paint your nails with a colour of your choice. Always apply a base coat. Wait for it to dry and then apply a coat of nail polish. Let it dry completely before you apply the next coat. This will make your nail polish last longer.
It's that easy and simple. With summer now in almost full swing, make sure to also use sunscreen when you step out of the house (whenever that is) to protect your feet from sunburn/tan.