HUMAIRA ALI A RISING STAR WITH GRIT
(1) Who is Humaira Ali describe yourself in one line?
(A) Multi-talented, self-made, and independent! I am a brave and confident soul who loves challenges, embraces them, and constantly pushes her boundaries. I believe in myself, and I never stop learning.
(2) Tell us about your recent underwater shoot that you did in Turkey?
Two years ago, I went to Turkey for an award show and had the opportunity to meet some good advertising agencies and designers. They asked me to collaborate with them on some project and editorial shoots, and I accepted their offer for my next visit. Over the course of two years, I tried to plan multiple visits with them, but my busy schedule and work routine prevented me from doing so. Luckily, I was able to find some time this month, and I was able to complete three editorials with them.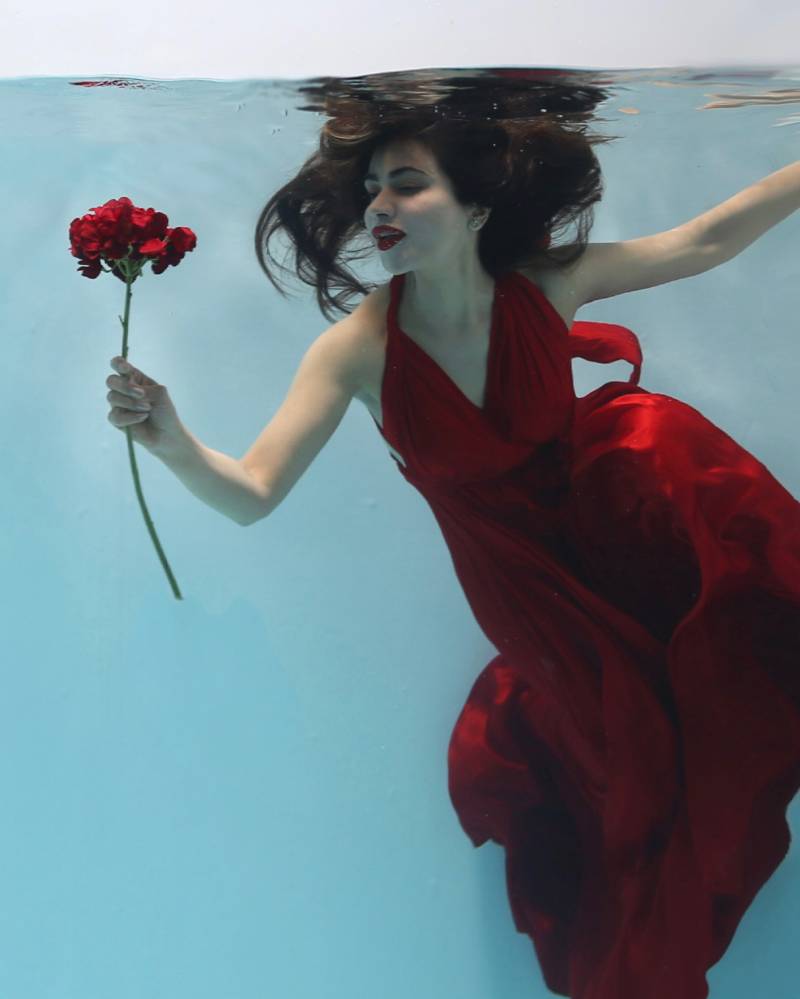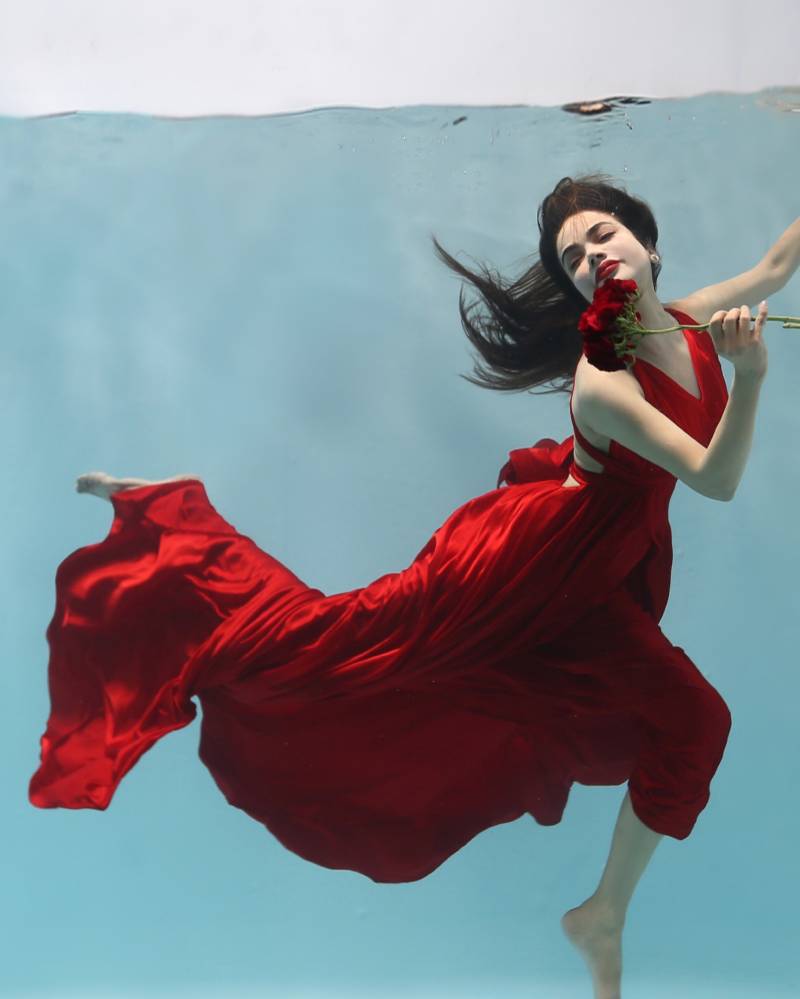 I must say that my intuition was right about them; they are highly professional and skilled individuals to work with, using advanced techniques. We discussed and planned every single detail, and I was very excited about the theme they shared. The theme was close to my heart for many reasons, as it was related to my childhood memories, which had a strong impact on me. The project was based on how an artist can paint underwater, and if a poet were to write his poetry underwater gracefully, keeping the theme in mind, I had to give my best.
(3) What inspired you do this shoot?
The theme was very beautiful, yet tougher to execute. The night before the shoot, I spoke to my mother on the phone, and she motivated me by reminding me of an incident that happened when I was young. I had drowned in water, and that experience had left a deep impression on me, causing me to fear staying underwater for a long time. To overcome my fears and doubts, I started learning swimming, practicing fitness, and doing yoga underwater last year. On the day of the shoot, I woke up with a fever, but I maintained a positive mindset and reached the location at 6am, the call time, despite the freezing cold weather. However, the burner of the huge aquarium was not working, and the water was quite cold. I did not give up, and we started the shoot. I followed the tips they gave me before entering the aquarium. Despite having a fever, staying in cold water, and managing my long silk outfit which stuck to my body due to the cold water, I kept my body postures perfect, kept my hair in the opposite direction of the dress, kept my eyes open despite the high chlorine level in the water, held the flowers (prop) in my hands in a good position, kept my facial expressions softer, and held my breath for 1 to 1.30 minutes. Staying underwater for 3-4 hours was a difficult challenge for me, but I tried my best to overcome it and put in 100% effort to do justice to the shoot.
(4) What prompted you to enter the fashion industry and why?
(A) My taste in clothing and self-presentation dates back to my early years. It involves your sixth sense as well as your senses of aesthetics, quality, and balance. The fact that I must enter the fashion industry as a professional artist/model became clearly obvious to me while I was pursuing my art education in school, college, and university. I was constantly interested in observing minute details in clothing, following trends, expressing myself creatively, posing and being artistically innovative.
(5) Your transition from fashion to tv has been something very swift what we're the first steps towards that?
(A) In addition to working for 6-7 years as a theatre actor with Rafi Peer Theatre and the Alhamra Arts Council as their professional actor, I also studied performing arts (acting, theatre, mime, and production) during my university years. I have also worked as a leading actor with Qavi Khan Sahab, Usman Peerzada, Salman Shahid Sahab, Farooq Zamir, Omair Rana, and other notable actors. I get thrills whenever I see theatre, and I love it. Prior to modelling, I worked as a theatre actor, which gave me the confidence to pursue acting as a career. At the time (2008, when I lived in Lahore and the television industry was based in Karachi), I appeared in a number of tv dramas, including "Roshni ki dastak," "Meharban kesay kesay," "Akhri harf," and others. As a result, my mother encouraged me to professionaly start acting. I moved to Karachi last year (2021) and made my acting debut with Six-Sigma Entertainment and ARY Digital in the drama "Love Vaccine", under the direction of Qasim Ali Mureed. I played the second lead opposite Farhan Saeed, Sonya Hussain, and Yasir Hussain. I worked on seven projects after that, including Tamasha, the first and biggest reality show in Pakistan.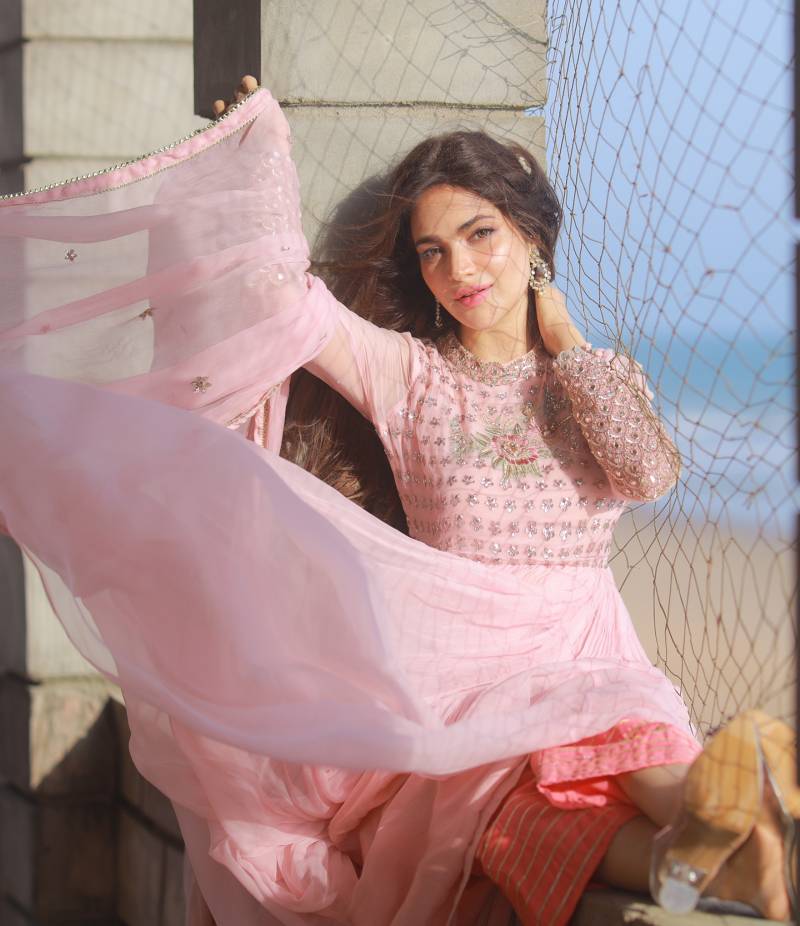 (6) Tamasha the reality show showed us all what a strong personality you have what are your thoughts on the experience?
(A) "It was a great experience, despite the fact that I wasn't mentally prepared for it at first. However, after understanding the entire game and every aspect of it, I seized control. It was a difficult project because it was the first time it had been done on such a large scale. I had to demonstrate that I was a multi-talented artist and contestant who could entertain the crowd while also cooking, doing housework, participating in multiple games, standing up for what was right or wrong, having patience at every step, representing culture, and looking good. Fortunately, I have excellent resilience and temperament, so I was able to get through it. Throughout the six weeks of the show, I worked hard and stayed committed to my goal. Every day was a competition, and we were put to the test both mentally and physically. Along with all of that, there were tasks to raise voice for people's rights, as well as household chores that needed to be done in addition to everything else. Because cell phones were not permitted inside the venue and intense monitoring was maintained round-the-clock, it was undoubtedly a once in a lifetime experience. You need to be careful because everything you did, including whispering and gossiping, was being recorded. I believe that this show gave me the opportunity to speak up for myself. I stood up and continued to fight for what's right and wrong throughout the show, especially for all the women. I think other artists should participate in it if they are given a similar opportunity in the future.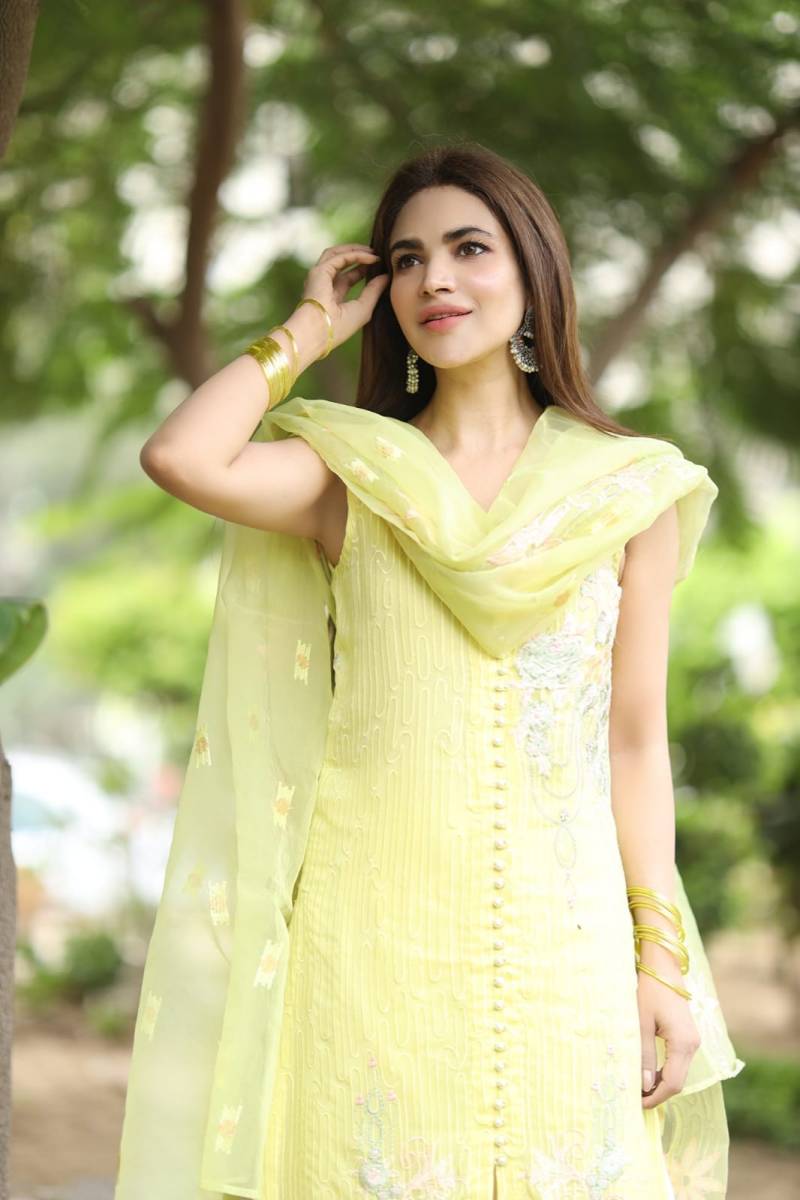 (7) Do you think patriarchy exists in tv and how do you plan to break through these barriers?
(A) Even though we live in a male dominant society, we still have many projects where the female characters are stronger and more powerful, making them the real heroes; which is what I love the most. We shouldn't label our drama industry in any particular ways, in my opinion.
(8) We heard you have just signed a drama as well could you tell us more about it ?
(A) Yes, I'm currently working on two television dramas. One of them is presently being shot; although it is a little lengthy, I'm really enjoying it. Since I have a good character, I am making a lot of effort to grasp how sensitive it is and do justice with it. My second project is also underway, and I am playing quite a challenging role in it. I can't say anything about it just yet, but I can't wait for the audience to watch the finished product on television.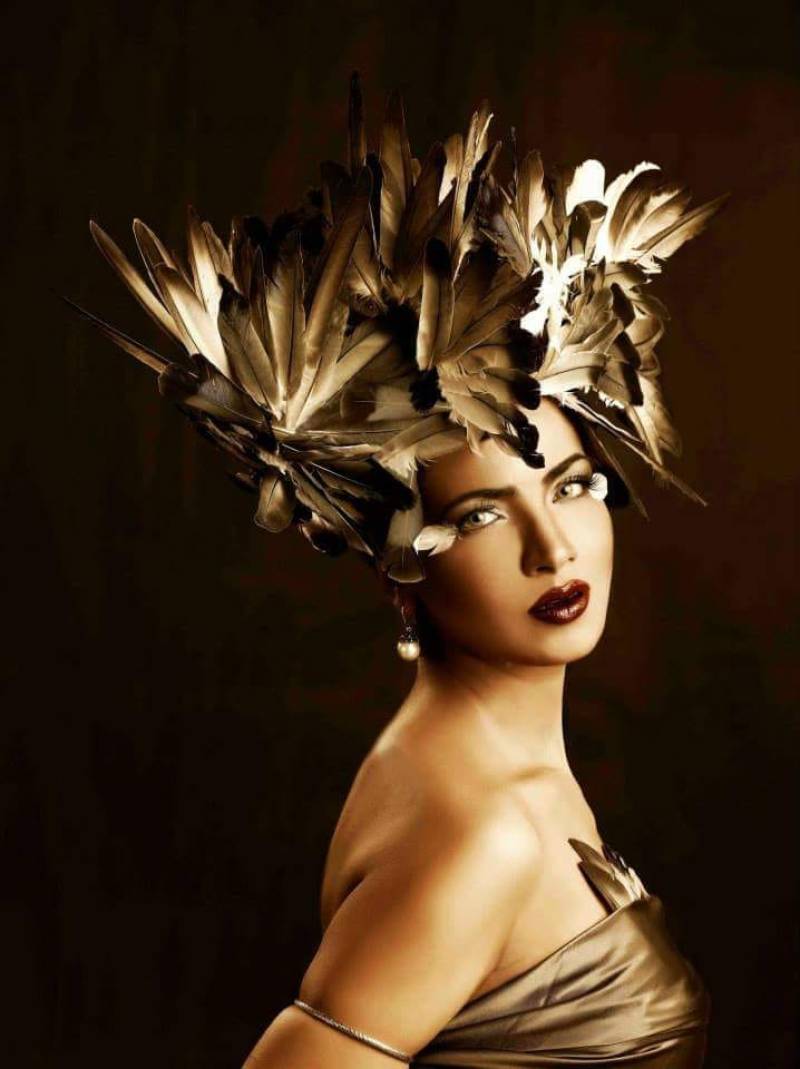 (9) If we open your purse today what will we find?
(A) My cell phone, Gucci or Ray-Ban sunglasses, some gum, my house keys, some lip gloss and perfume, and of course, a water bottle.
(10) What are your thoughts on the same kind of character we have to play and act in on the tv screen are you for strong roles or will we see a crying Humaira?
(A) Definitely, I love strong roles! But as a creative person and actor, I value versatility. Regardless of whether it has a stronger, positive, comedic, negative, or usual sobbing nature. I think artists should always attempt new things and give their all to whatever they are working on. Your craft, talent, and skill will determine how much you can earn with it. No character is stronger or weaker, longer or shorter, powerful or irrelevant. In my opinion; it all depends on how well you construct and present it to your audience. An actor makes any role strong or typical by how they perform it.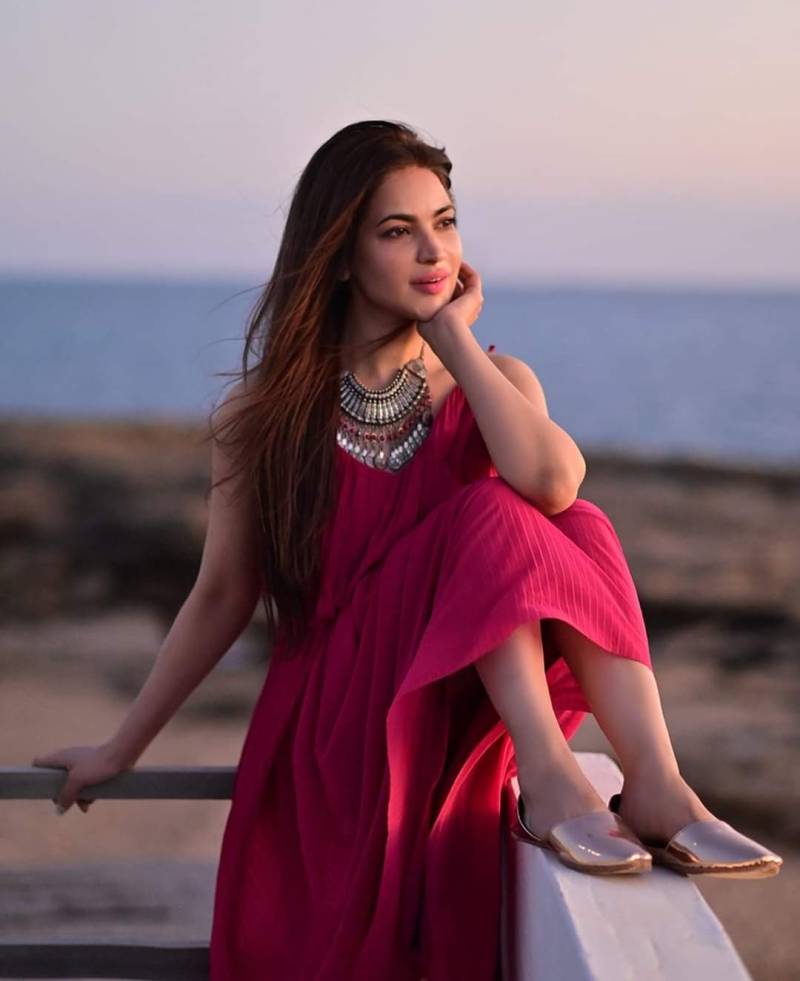 (11) Do you miss Lahore at times as you are from there and moved to Karachi for work which city do you like more?
(A) Making a choice between Lahore and Karachi is quite difficult for me. Lahore kept me extremely well taken care of, but I will always be grateful to Karachi. I have my family, my greatest friends, and my biggest comfort zone in Lahore. While in Karachi, I adore the seaside, beaches, food, and degree of professionalism which you cannot get in Lahore…and now I can't even picture leaving this city. It made me independent, fast enough to match my true energy, which is fairly high.
(12) Being a woman was it easy for you to move from one city to another and keeping up with your career at the same time?
(A) Managing daily tasks, working on projects, matching the quality of work, keeping everything in balance, and maintaining it all alone was not as easy as most people think it is. I have faced quite tough times when I was starting up…but one thing I always believed in was staying positive, never giving up, and desire to continue. My stamina was actually improved and built during that time.
(13) How do you manage your day to day struggles and difficulties and still come out as a powerful independent artist?
(A) Since I was in NCA College and later in University, I have studied and received formal training in Visual Arts & Performing Arts. One of the biggest lessons I've learned is that without dedication and persistence, you cannot achieve anything in your life. As a pretty spoiled child in Lahore, Karachi forced me to practice all of this in my life. I remain passionate and energized at the same time because of my daily struggle. Talent, in my opinion, helps you along the path, but without persistence, self-control, and discipline you will only continue to struggle.
(14) Your message to the young fans who are looking up at you for inspiration?
(A) I adore each and every one of my fans and followers dearly, and my message to them is:
"God gave you those dreams, goals and ambitions to achieve them and not forget them, therefore whatever your passion and objective in life may be, never give up at any cost. Always be confident, focused, loyal, and sincere at your work. Regardless of the circumstances, you should constantly look for the positive in every chance that comes your way. You should also be eager to learn new things and persistent in your efforts. Because nothing is impossible, the secret to achieving your goal is to follow your dreams with optimism and passion. I love you all ❤️"