Nobby Cafe Opens Its Doors In Karachi
Nobby Cafe opens its doors in Karachi and HELLO! had a quick chat with owner Saba Jerjees about her latest venture.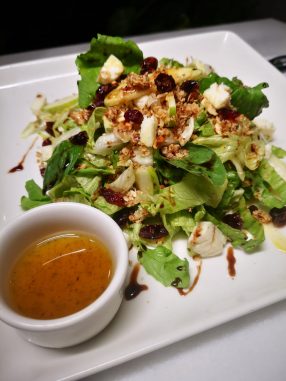 What made you open up a café from everything else?
I have always been a food enthusiast and my love for cooking goes a long way. I've taken several culinary classes and experimented with different foods; luckily enough got praises from my family and friends for whatever I've made them taste. This along with some motivation from my husband, I finally transformed my passion into a career.
What made you want to work in the restaurant industry?
Shifting demographics and changing lifestyles are driving the surge in food-service businesses. I've been running a home based diet food business called Slimfitt since about a year and a half now so I know how the restaurant industry works. With the experience and expertise in such an industry, I couldn't have thought of a better option.
Where did the name 'Nobby' come from?
Nobby literally means trendy/chic, and that's what the idea is- to keep up with the trend and give our best.
What kind of cuisine will you be serving?
At Nobby you'll get to taste the authentic flavours of freshly prepared classic continental dishes including an excellent range of pizza, pasta, seafood and meats. Also, not forgetting Nobby's delicious homemade desserts!
How do you set yourself apart and what do you think makes your cafe unique from your competitors?
A restaurant is defined and sets itself apart by two things one is the quality of the food which we plan to ensure is of high standard by personal supervision and second by the service for which we have hired thorough professionals and are training them on how to go about their service tasks.
How long did it take for your dream of Nobby Café to turn into reality?
Well to be honest it took a lot less time than expected. I was dining out at some restaurant in Dubai sometime in January, that's when the idea clicked. We gathered the right team and after a weeks of total chaos, suddenly everything just fell into place. You know how they say where there's a will there's a way.
Is there any dish that is being carried on from your ancestors? If yes, tell us a little about it.
Um no, not really. We've keep it very 21st century-ish keeping in mind the demands of today's public. Nowadays the food choices have taken a 360 degree turn from what my ancestors would have preferred.
Describe the ambience and interiors of Nobby.
I think Nobby stands out for its beautiful interior with the iconic astro turf ceilings, classic decor, a modern bar, and plenty of light for your perfect Instagram shot. We've been praised a lot for the cosy comfortable ambience too.
What are your three tips for running a successful restaurant?
1) DO NOT, I repeat DO NOT compromise on quality of food and service
2) Always keep an eye on your competitor
3) Never leave your customer disappointed, in other words, customer satisfaction is a must!
Tell us which dessert item on the menu, according to you, will be a fab hit among your customers?
Sinfully yours! We created this with a lot of effort and planning. It's basically a heaven of chocolate pudding with a delightful mix of raspberry jam, whipped cream and honeycomb. My personal favourite too!