Five Scrumptious Eid Dessert Recipes To Easily Prepare At Home
Five scrumptious Eid dessert recipes to easily prepare at home!  Eid is known as the festival of eats and we have shortlisted the best easy Eid dessert recipes to indulge on!
How to make it:
Heat ghee in a pan and add the nuts you need to put in for a rich flavour. Cook it for 1-2 minutes until the nuts turn golden brown. Then remove the nuts and set them aside to use later. Now add the seviyan (vermicelli) in the same pan and mix well. Roast them for about 3 minutes till they start becoming golden brown. Now add the khoya and roast for another 1-2 minutes. Then add milk to the seviyan/khoya mixture and let the milk come to a boil and stir well so the seviyan don't stick to the pan. Once the boil has come, lower the heat and let the mixture boil for another 8 minutes or so so that milk starts to thicken and at this point, add sugar (according to your own taste) and mix well. Now add the roasted nuts into the mixture and mix well. At this point, you can also add the saffron for a very authentic taste and serve to your loved ones on Eid!
2. Shahi Tukra- This famous Hyderabadi dessert is perfect for a traditional dish and will make you ravenous the second you see it in front of you! It tastes just as good as it looks and is extremely easy to make!
What you need:
5 bread pieces
1/2 cup water
3 cups milk
1 handful cashews
1 handful almonds
2 crushed black cardamom
1/2 cup of ghee
6 strands of saffron
2 pinches powdered green cardamom
2 tbsp sugar
How to make it:
In a saucepan, add sugar and water and heat. Once the sugar dissolves add the saffron and let it boil. Once the syrup is ready and thick, take the saucepan off of the heat and set aside. In another pan, add milk and heat till the quantity of the milk is reduced to about 1/4th of the original and stir continuously. Once its reduced, add green cardamom powder and and the sugar syrup previously prepared. Continue heating for another 5 minutes and once done, keep aside. Taking the bread slices, remove the corners and cut it into triangles. Afterwards, fry the bread slices in ghee until they are golden brown. Soak these slices in the remaining sugar syrup made earlier for about a minute and then place the slices on a dish and pour the milk and sugar syrup made previously! Indulge in the pure goodness.
3. Custard- This milky dessert is very easy to prepare and extremely yummy to eat! It is not only the favourite of the adults but also the children.
What you need;
Egg yolks
Sugar
Cornstarch
Vanilla extract
Whole milk
Butter
How to make it:
Pour milk and sugar in a large saucepan and bring to just below a boil. Reduce the heat to medium and keep the milk there. In a bowl, mix cornstarch, sugar and egg yolks and whisk well (do it when the milk it on the heat, not before). Then add one cup from the warm milk into the bowl and mix well. Add this mixture to the milk on heat and keep stirring with a whisk until the mixture thickens. Now turn the heat off and add butter. Add vanilla extract and strain the custard to remove any lumps! Serve with raisins and nuts and enjoy with your family and friends!
4. Ras Malai- This lavish dessert is everyones favourite for its richness in flavour, summer appropriate taste and its association with eid!
What you need:
For the ras malai balls
1 litter whole milk
4 tablespoons lemon juice
1 teaspoon cornflour
4 cups water
1 cup sugar
For the syrup
500 ml whole milk
5-6 green cardamom
saffron
3-4 tbsp sugar
chopped pistachios
How to make it:
Boil milk in a big pan. Take it off the stove and add 1/2 cup of water to cool off the milk. Wait for 5-10 minutes to add lemon juice into the milk until it curdles. Once the milk is completely curdled, strain the water and collect the lumps that were formed in the milk. Squeeze out the remaining water from the paneer. Add cornflour to the paneer that you just made and mash it constantly for 10 minutes with your palms. Once it is completely smooth, make small balls (circular or oval) from the paneer. Add 4 cups water and 1 cup sugar in a pan and Bring to a boil. Drop the balls in this syrup and cook for about 15-17 minutes. By this point the balls will double in size. Cool down the balls and put aside. In another pan, boil 500ml milk and in a separate cup with 1/2 milk add few saffron stands for flavour. Keep stirring milk and after 10 mins add milk and sugar. After 20-25 minutes, the milk will thicken and then add the milk soaked saffron, chopped pistachios and cardamom powder.
Take the cooled down ras malai balls and before you add them in the milk, squeeze them lightly and soak in the sheera made earlier so that they get flavour till the inside. Afterwards, transfer the balls to the thickened milk and add dry fruits for presentation!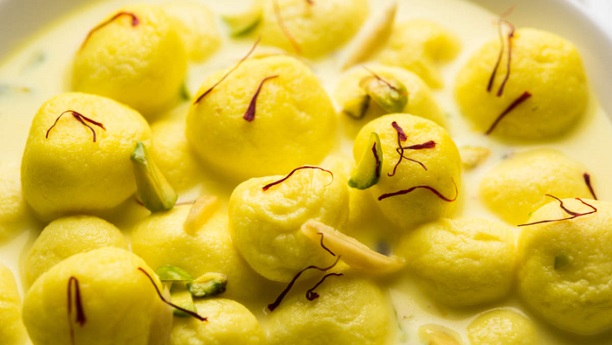 5. Fruit Trifle- This dessert made from fruits is extremely refreshing and easy to prepare if you're in a jiffy! The tantalising flavours and presentation makes for a fine eid day dessert!
What you need:
1 liter Fresh milk
1 Tin Pineapple cubes
1 Tin Peach
1 Tin Fruit cocktail
1 Tin Sponge cake
2 Apple
4 Bananas
1 cup Sugar
1 cup Chopped walnuts
1 packet Strawberry jelly
2 packets Fresh jelly
4 tbsp Vanilla custard
How to make it:
Put milk and sugar in a pan and cook for 2 minutes. Then dissolve 4 tbsp of vanilla custard (recipe taught earlier) in the milk and stir with a wooden spatula. When the custard gets thick, add the fruits and the sponge cake (can use fresh or from any store) and stir well. For presentation, add the strawberry jelly and and walnuts on top and enjoy on a sunny Eid brunch!
Let us know in the comments which one did you end up trying.