Levi's® Pakistan Gets Technical This Summer 2018
These days, with science and technology infiltrating practically every facet of our lives—even our houses are talking to us now—it makes sense that our clothes shouldn't get left out of the tech invasion. Thanks to a slew of fabric technologies, what we wear can do so much more than just look good. It can protect us from the elements, increase our range of motion, and keep us at optimum levels of comfort. For Summers 2018, Levis Pakistan introduces Levi's® Performance that offers a range of technically advanced jeans, pants, and tops that will not only ensure maximum comfort and durability, they'll also cool you down when it's hot, and keep you dry when it's raining.
It's easy to keep figuratively cool in a pair of
jeans
. James Dean and Marlon Brando made sure of that. But keeping literally cool? Thanks to Levi's® Coolmax Core—fabric technology that manages moisture within the cotton fiber and wick sweat using polyester fibers, respectively—that's now possible too. By keeping moisture away from your skin, you stay cooler, which means that you can wear your favorite jeans—including  511™, 510™ and 512™—even during those dog days of
summer
.
Of course, when the monsoons come, there's nothing worse than being forced to choose between getting wet and overheating in stuffy, water resistant
clothing
. Luckily, thanks to Levi's® Performance Cool, a new fabric technology that is both lightweight and breathable, dries quickly and has evaporative cooling, you'll never have to make that choice again.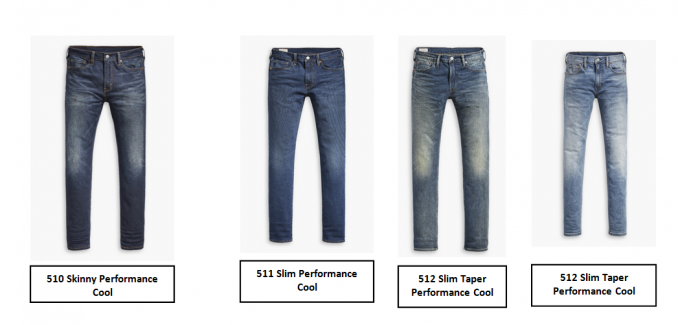 The Levi's® brand epitomizes classic American style and effortless cool.
Since their invention by Levi Strauss & Co. in 1873, Levi's®
jeans
have become one of the most recognizable garments of
clothing
in the world – capturing the imagination and loyalty of people for generations. Today, the Levi's® brand portfolio continues to evolve through a relentless pioneering and innovative spirit that is unparalleled in the apparel industry. Our range of leading jeanswear and accessories are available in more than 110 countries, allowing individuals around the world to express their personal style.
For more information about the Levi's® brand, visit Levis stores nationwide.