Lawn Fever Continues: Rangoli The Fabric Shop Launches Premium Lawn Collection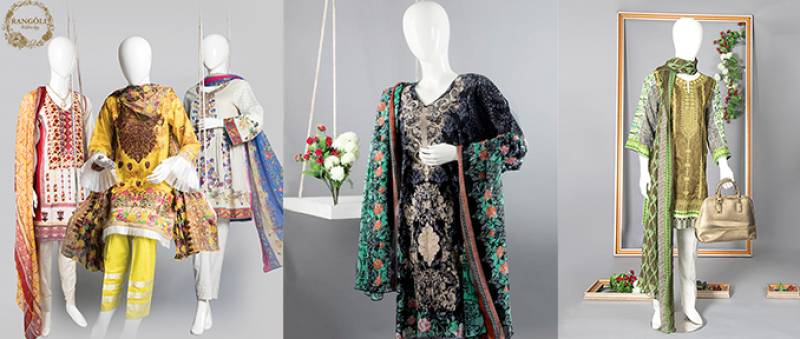 February in Pakistan does not just mark the beginning of spring, that brings with it blooming flowers and garden parties of sorts but marks the onset of the much awaited lawn season. Women across the country gear up to welcome the season in style. The sight at these exhibitions is unimaginable and at times astounding. The prints are rare and not repeated again, and of course designer lawns are seen as a status symbol that one must invest in. 
Rangoli the fabric shop, that initially started off as a distributor of big clothing brands has ventured into launching its first collection of premium lawn named Rangoli Royal and is surely one that is bound to strike the attention of everyone.
The brand stays true to its name by bringing the finest and most luxurious collection that targets all women across Pakistan. With silhouettes that are modern yet timeless, Rangoli's collection is astounding, sensuous, elegant and affordable, all at once. Keeping in mind the distinct tastes of today's women, regardless of their age, their collection has incorporated a wide array of delightful designs and striking hues fit for a grand occasion or for simply an evening out on a hot day. Offering a stellar series of colours, motifs and designs, the brand aims to give women a good run for their money.
The team at Rangoli explains the ideology of creating their own brand,
"Building on the strength of Rangoli, the concept was created for customers to experience the depth, range and creativity of the Rangoli product portfolio. From fashion fabrics to unique designs, Rangoli offers to give their customers the best range of clothing under a reasonable price tag. Rangoli the fabric shop is a perfect haven for aesthetically-inclined women, who can bring their style language to life with fashion fabrics, ready-to-wear lines and stunning accessories from our stores".
Their latest six collections to be launched within the next three months under the same brand name are expected to take the country by storm this spring/summer. The upcoming collections include the following,
Mid range Rangoli Embroidered Lawn with lawn Dupatta, will be launched next week

Mid range Rangoli classic lawn with lawn dupatta , will be launched before 25th of this month

High price Rangoli Signature, Digital Embroidered with Silk Dupatta, it will be our premium collection and will be launched on April 2017
The other 3 collections will be launched midsummer.
All Rangoli suits are available online at their official online partner Snatchit.pk which is an emerging e-commerce portal in Pakistan. Also visit Rangoli's Facebook and Instagram page for additional details.