Fashion Legend: Maheen Khan Talks her Past, Present and Future
Throwback to last year when Hello! chats with the effortlessly chic fashion queen, Maheen Khan.
When and how did you know that fashion was your calling?
Very early on, when I was just a teenager and modelling for a magazine, I knew that I loved fashion.
When did you produce your very first collection and how did you feel?
It was many years later, having already been running a tailoring establishment for five years, that I was able to bring out a mini collection. You could say I discovered my soulmate and embarked on an enduring relationship that was to enrich me beyond my dreams.
When you launched Maheen Khan, could you have predicted how it would grow in the coming years?
I never thought of anything beyond the day-to-day challenges and the joys of making women look beautiful.
As you successfully marched forward with a career in fashion, did you see your aesthetic blossom into its personality, or did you always have a vision you knew you wanted to execute?
I have always had a very clear idea of how I wanted to dress a woman. Today, when a woman wears my clothes she has an edge.
Looking back, is there an editorial, which has stood out to you that you absolutely loved?
In 1990 I shot with Aliya Latif (Bibi) and Zain Mustafa photographed it. The soft lace embroidery was to define the 'Maheen' look for years to come.
Are there pieces from your past collections that you count as favourites?
A part of me is in every piece of my collections, I love them all.
Is there a garment you have designed that will always have a place in your own personal wardrobe?
The white sequinned throw or capelet.
Over the years what or who inspired you?
My mother and my aunts - all uber glamorous and stylish women.
Branching away from runway and lending your embroidery talents to costume design, was that a natural progression?
Life is a series of opportunities. You have to grab them even though it may seem dif!cult to hold on to. Embroidery for set and costume design has been yet another adventure.
Who is Maheen Khan's customer? Who do you design for?
'For the woman who has a personality and is brave enough to be different' - you have to create your own style, and women have to want to be a part of that essence.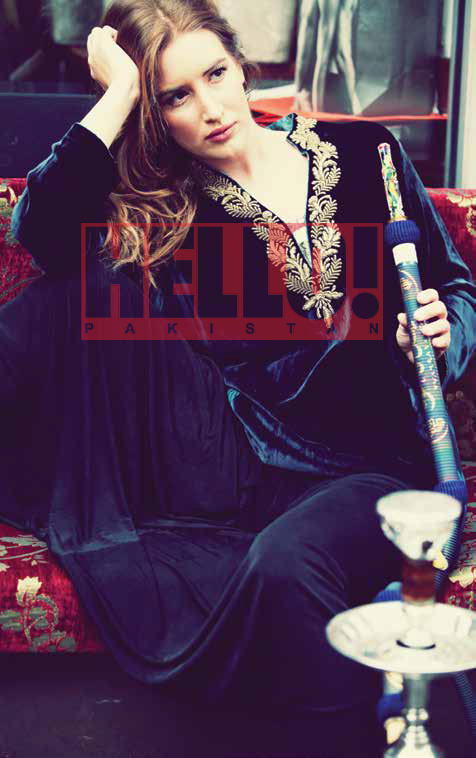 After presenting Maheen Khan the label's last runway in 2014, how did you feel?
Ready and eager for the next adventure.
If you could describe the Maheen Khan label in one sentence, what would it be?
A woman in a Maheen stands out in a crowded room, confident and chic.
To purchase a copy of the magazine online, subscribe here: http://bit.ly/2eTVov8