Ideas Pakistan Day Sale Is Live NOW!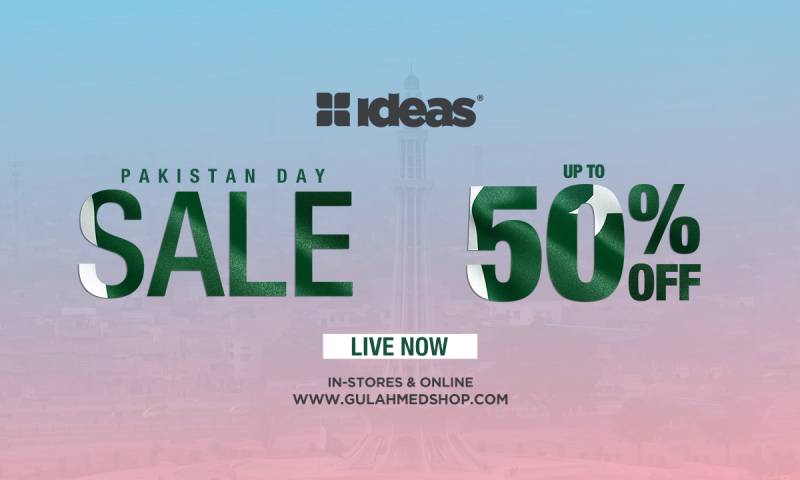 Now that the winters are finally over and the spring has sprung, the new season calls for a new wardrobe. The spring vibes in the air makes us want to catch up on fresh new fashion for the season from the most loved Ideas. To make your wardrobe upgrade easy for the season, Ideas has launched Pakistan Day Sale on up to 3000 products with discounts of up to 50% OFF exclusively online. To avoid the hassle of visiting the store just order your favorite picks online from gulahmedshop.com
This is a perfect opportunity to get your hands on all the trendiest items you need so that you flourish as the season flourishes by shopping early for all the festivities.
The Pakistan Day Sale is live on www.gulahmedshop.com with discounts worth availing! The sale covers all every category you desire. From GulAhmed Unstitched fabric to Ideas ready-to-wear to shoes and bags, everything has must-shop discounts. Not only these but you can now shop ravishing discounts on Ideas Man, Ideas Home and kids apparel as well.
Up to 50% OFF On GulAhmed Unstitched Fabric:
Getting hands on unstitched collection enables you to style your favorite two-piece or three- piece suits in your desired design. Revamp your wardrobe with vibrant colors of the most fashionable offering that GulAhmed unstitched collection has that includes flawless patterns in flowy fabrics before they run out of stock.
Unstitched Pakistani Lawn Suits & Ladies Dresses - GulAhmed (gulahmedshop.com)
Up to 50% OFF On Ideas Pret:
Don't we all look for the lightest material for summer season to keep us cool which looks trendy too? Ideas has got us covered by offering best quality breezy fabric with latest trends of attractive prints in co-ord sets with elegant embroidery to make you stand out of the crowd.
Buy Kurtis Online - ideas PRET Ready-to-Wear Collection 2021 (gulahmedshop.com)
Ideas Home:
It's true that decorating your home gives you an extra sense of comfort therefore, Ideas home has amazing variety to enliven your habitat with the best and unique accessories facilitating your rooms with eye-catching and vibrant bedsheets of best quality fabric. To uplift the look, Ideas offer screen printed and hand-woven rugs in different colors and designs. Moreover, soft and smooth fabric bridal beddings are a must-buy from the Ideas Home Collection.
Style Your Space with IDEAS Home Fashion (gulahmedshop.com)
Ideas Men:
Men varieties all under one platform are hard to find when you are in search for a wide range of designs and colors. Ideas Man has premium quality of polo shirts, t-shirts, casual shirts, dress pants, dress shirts, khakis and jeans. Not only that, the eastern collection consists of soft to hand fabric that are manufactured keeping the scorching heat of summers in mind.
Shop the Trendiest Men's Clothes from Ideas by Gul Ahmed (gulahmedshop.com)
Shoes and bags:
There is no such thing as too many shoes. Grab your latest fashion slides and footwear from Ideas shoe collection and put your best foot forward this summer season. The variety of shoes fits for all occasions and the comfort is unmatchable.
Womens Shoes by ideas PRET - Buy Shoes for Women from GulAhmed Shop
Bags from Ideas are of premium quality and go along your outfits pretty well. They come in different styles namely clutches, totes, long wallets and hobo bags. It is definitely a fashion paradise for shoe and bag lovers!
Ladies Bags, Totes & Crossbody Bags - ideas PRET - GulAhmed Shop
Ideas Kids:
Stock up all the kids summer tees, shorts and funky lawn kurtis made out of breezy fabric for your kids to easily enjoy summers in their super trendy outfits. Ideas kids collection has the coolest graphic tees and on-going micro-fashion clothing at attractive discounts.
Shop Exciting New Clothes for Kids - IDEAS Kids (gulahmedshop.com)
Ideas Pakistan Day Sale is live and this is the perfect opportunity to get your hands on all the latest trends to update your wardrobe with summer-friendly practice at discounted prices because who doesn't love a good sale. Therefore, shop till your cart overfills and enjoy all summers wearing the best of the best. You will get FREE nationwide delivery on all orders above PKR 2,000 and more.