Hajra Khan Talks To HELLO!
In an exclusive conversation with HELLO! we speak to actress Hajra Khan who tells us about her struggle to become an actor she is today and more.1. Tell us a little about yourself and your journey as an actor. 
I was born in Quetta to a Pathan family but grew up here in Karachi. I was a teenager when I was first discovered by Nabila at her salon, I was getting a haircut before going abroad to study. She approached me for a hair beauty shoot, and said 'I'm from Quetta too, don't take this up as a hobby, take it as a profession and you will do very well…especially with those eyebrows.' She knew my parents wouldn't let me. And said we all have to fight for our dreams. I did the shoot secretly, went away, studied, came back after a few years and decided I will try it out. Her words stayed with me all these years.
2. How did you enter into this field? Was it always the dream?
Borrowed some money from a friend as my parents did not support me, made a portfolio. Through the contacts I made, eventually got to act in a TV show and walked the ramp (I was told I am too curvy for modelling!). Later on a talent hunter saw my pictures and the great film director the late Javed Fazil was adamant on casting me for his ambitious and controversial TV venture Buri Aurat. I was nervous at first but eventually I said 'yes' mostly because I wanted to make my own money. I was never someone to think bad of the industry, it's just people's mindset that is the problem. I had to explain this to my family and father--they were upset. Despite having an education abroad for a Pathan girl, I chose to go for something unimaginable and risky. I always loved films and stories passionately. I remember as kids we would make videos of us
acting
when in Quetta.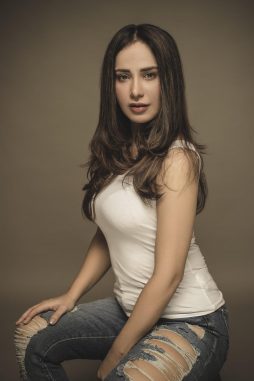 3. What is the most challenging aspect about your field?
The way the top leaders of the industry don't invest within the industry, including the governments non-friendly support for films and art. The infrastructure, working conditions are poor, there is no fair contract that protects technicians and artists to insure them. It's a cut throat nepotistic, regressive and very sexist mindset people have here. They'll put money into non-legit fancy award shows but no money on ground to fix the structure, instead of unity we have lobbies. It has become a mean of making more money for those at the top. Hence, we are doing massive but repetitive poor-quality programs. Things will improve so much if we work on things from within first. However, despite these disabilities were still making things and trying. So that's collectively commendable.
4. According to you, what sets you apart from other actors?
I'm ME--an original. I don't act to look pretty or follow a certain formula that 'works'. I act out of my creative original diverse passion without any agenda and I take risks. And from what my kind peers and directors tell me, I'm very gifted and a natural artist.
5. If you could go back and tell yourself one thing before the beginning of your career, what would it be? 
Take care of yourself, don't worry about anything else. The rest will follow. Focus on you, your career and your health…at least I'm glad the older me is taking that advise (lol).
6. One thing your fans don't know about Hajra Khan.
I'm a very private down to earth person. I act out of my talent and my professionalism. Can't do social media tactics--I find it so manufactured everyone looks the same. Don't like all that unsolicited attention other than being an actor and don't need for validation on what others think I should do, say or wear. I am my own boss. 
7. Coming from a family that had nothing to do in the entertainment industry, how did you fight your way into this field? Did your family support your ambitions?
Not at all…they have accepted it but they've never approved of it. It was very hard for me. Now they at least respect my choice to stick to my passion that I have no plans of quitting.
8. You've suffered from mental illness. How do you stay calm and positive during anxious moments?
Well it's been difficult. Having anxiety issues and panic attacks leads me to not being able to cope or function. It happens to the smartest, toughest, most intelligent and successful people just like any illness. Remember I'm a strong independent woman, but were all just human. So, with my work being an issue in the past, I never felt like I could fit into the industry, I still don't. I'm different. And with my family not accepting or supporting doesn't make it easier. It's the people around you who need more educating on the issue then those who suffer honestly. It has been a chaotic but wonderful journey of self-discovery and salvation while being myself. But I've worked on myself, as tough as I am and vulnerable we can be, I've tried medication as doctors here so casually prescribe (it did not help but made it worse for me few years ago I couldn't work or think positively). Therapy helps. I travelled, took time away, rediscovered myself. It's all about mind over matter. Once you do internal work to heal and learn to cope, you get over it. You evolve. I look after my mental hygiene by not engaging in external negativity, noise or clutter. I meditate, workout, focus on self-improving and most of all believing in myself that I'm going to be just fine as long as I live my truth with empathy. Remember to be kind to yourself and let go of anything that doesn't serve you; choose yourself first and stay positive. Also having a good sense of humor helps, which I do have!
9. If not an actor, you'd be a…?
I was BORN to be an actor!! (LOL)...but now I'm also writer so I guess that.
10. One advice you'd give to your followers.
Only mind your own business, seek justice in the world not gossip. Worry about your problems don't create them for others. Be kind to animals and anyone less privileged than you. Respect others. Follow your dreams and remember everyone is different, so choose tolerance, acceptance and kindness always. Smile and drink a lot of water don't waste it.